Good design celebrates a commitment to aesthetics and functionality and should extend beyond the walls of your home, to your outdoor space. Small or large, yard or patio, these exterior areas serve as a welcome escape or retreat from the confines of your home and provide a fresh canvas for your creativity. Their importance has never before been more pronounced than now, as the pandemic curbs our wanderlust, encouraging us to appreciate our most immediate environs instead. 
Thankfully now, after months of quarantine, most of us have had the time to thoughtfully consider how we live and occupy the spaces we call home, including our outdoor spaces. And, as summer approaches, they truly become an extension of your living space.  

When it comes to condo living, balcony space becomes an important area in your home. Together with the Concord Adex team, our designers identified some key areas of outdoor spaces that residents are always looking to spruce up. Our tips will help you re-imagine your outdoor living spaces so they tastefully and seamlessly transition from inside to outside, and create a calming oasis for reflection, entertainment, and biophilic restoration. Discover each element of designing and decorating your outdoor living space below:
Setting the Foundation – Choosing the Design and Finishes
Selecting the Furniture
Adding Décor Elements
Incorporating Plants & Greenery
Choosing Outdoor Lighting
Setting the Foundation – Choosing the Design and Finishes
To create a dreamy outdoor space, begin by selecting a theme – one that is suitable for your circumstance, namely, the size and style of the space.  Are you looking to create a contemporary, zen, or a more modern rustic atmosphere?  These initial decisions will establish the vision for the space and will inform all other design decisions you make in terms of outdoor furniture, décor, greenery, and lighting.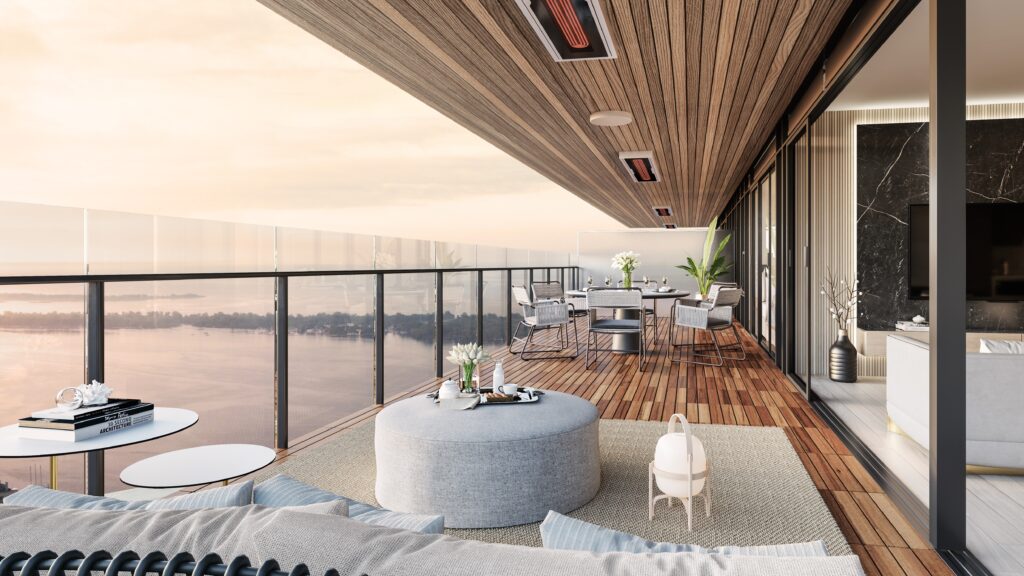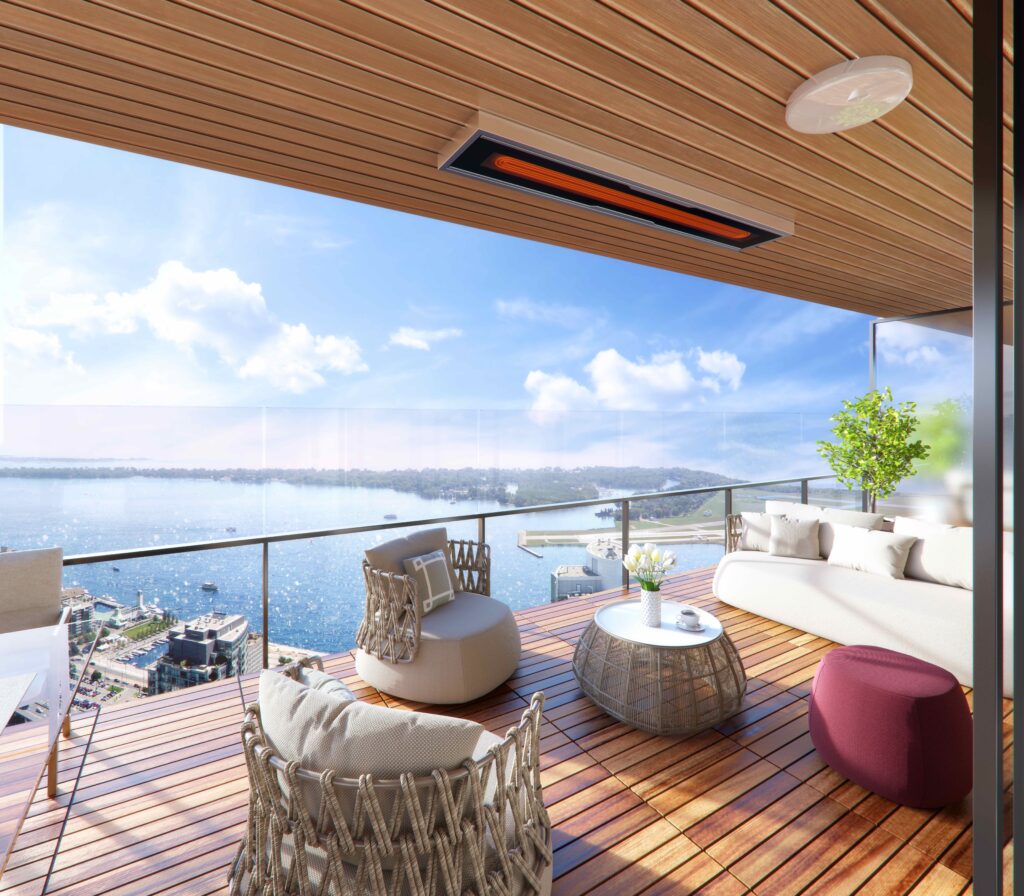 Commit to a colour palette – black and white, taupes and beiges or vibrant brights.
Decide on finishes for your space – wood, marble, poured concrete, or other suitable materials. Ensure they are designed for the outdoors; they should be durable and weather-proof. 
Borrow design elements from your interior space to create a seamless transition from inside to outside.
For a small balcony or patio, consider laying down interlocking wood deck tiles to spruce up dull cement or vinyl decking. Wood is a natural element and instantly elevates the outdoor space.  
LIV x Concord Picks – Finishes
When designing outdoor spaces for our client Concord Adex, our designers select premium and exclusive finishes with functionality in mind.
Many of Concord's projects in Toronto, such as King's Landing, Saisons, Seasons, Central and Concord Canada House have been designed with distinct and premium features that allow residents to enjoy their outdoor space.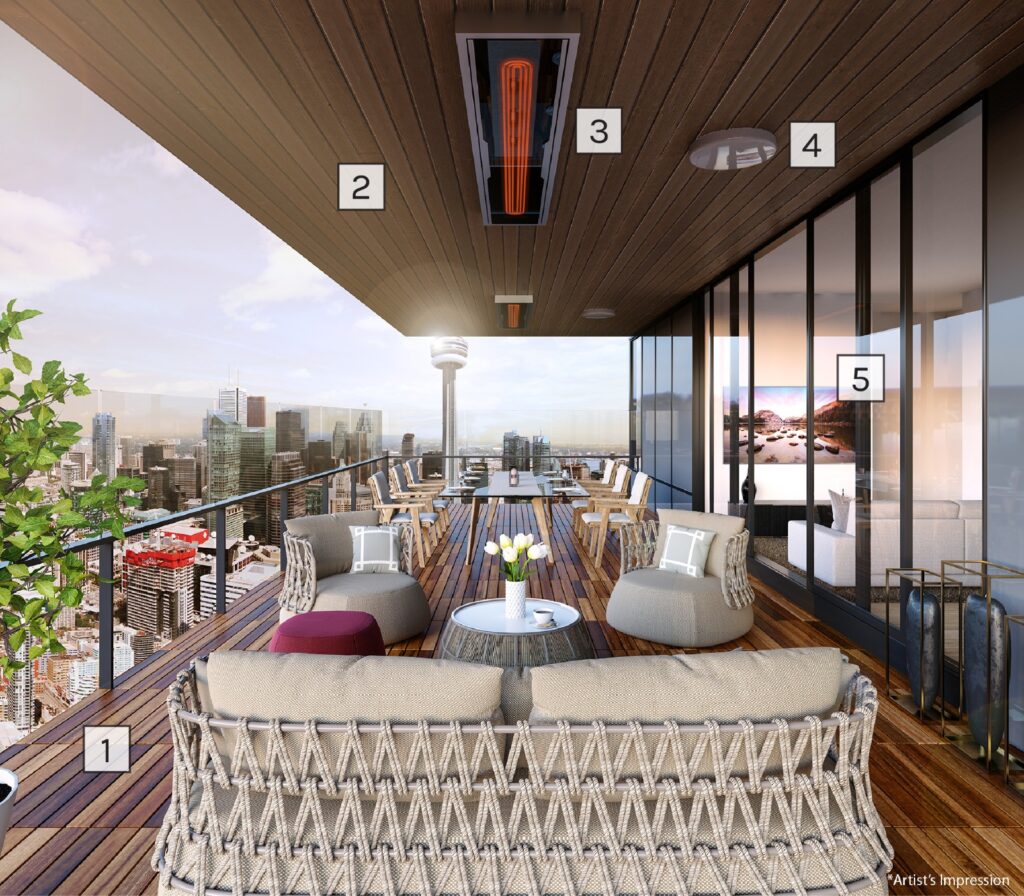 Selecting the Furniture
In most cases, your outdoor furniture will be the biggest investment in your outdoor space. It should be timeless, durable, and reflective of the design aesthetic apparent inside your home.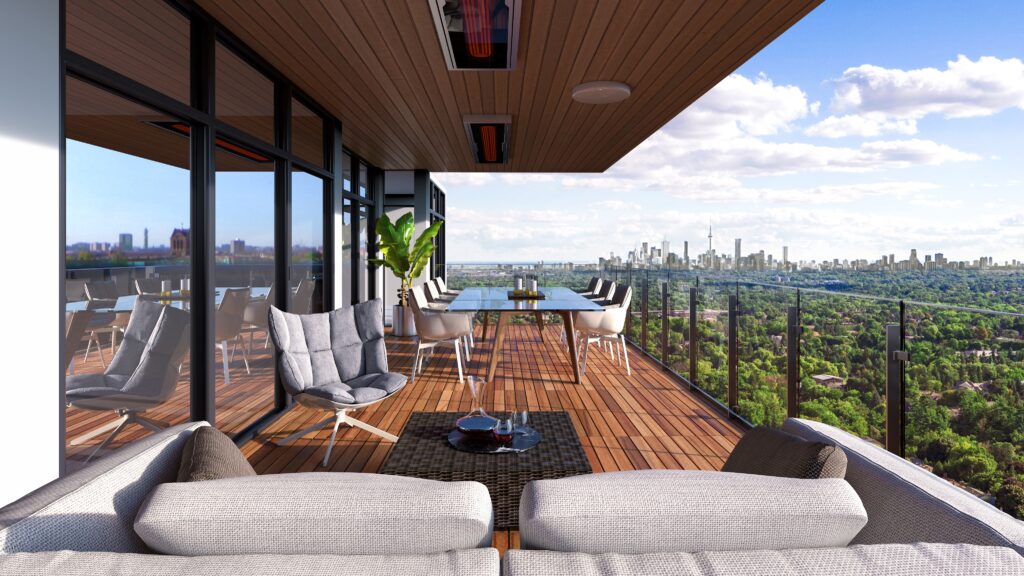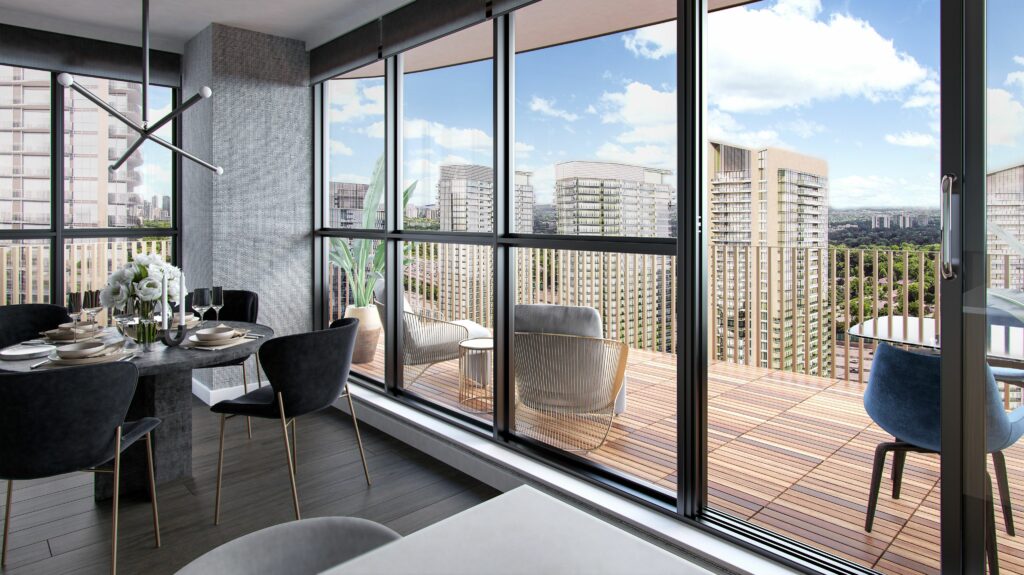 Choose silhouettes that complement interior choices. 
Explore outdoor furniture sets, where pieces of similar profiles will blend more organically with the overall setting.
Consider durability and materials when selecting furniture. We recommend pieces with 100% high-grade teak, high performance powder-coated aluminum, synthetic wicker or iron for maximum durability and longevity.
For a small balcony or patio, choose pieces that have dual purposes for instance, both seating and storage. You might also select a focal furniture piece – a table, or sofa and decorate with smaller furniture pieces around it.
LIV x Concord Picks – Outdoor Furniture
Adding Décor Elements
To truly enliven your outdoor living area, accessories are key. Remember to choose décor elements designed for the outdoors, accessories should be water and UV resistant. This aspect of outdoor living should marry functionality with aesthetics.
Add a punch of colour with outdoor accents. Colourful pillows and throws are a great way to complement the furniture and bring together a design theme.
Add a rug to define the space and inform furniture placement. Remember to select an indoor/outdoor, or outdoor specific rug for easier rug maintenance down the road.
Decorate for both day and night. Add candles for a touch of romanticism to any outdoor space and create a magical atmosphere once the sun goes down. Lanterns or string lights may be another option for windy locales.
Optimize the vertical space provided by walls. Add a hanging garden, artwork, or mirrors to add depth to otherwise stark concrete walls. 
For a small balcony or patio, versatility is key. Consider floor pillows and poufs that offer seating versatility and can be stored easily. The firmer options, like ottomans, can double as a table.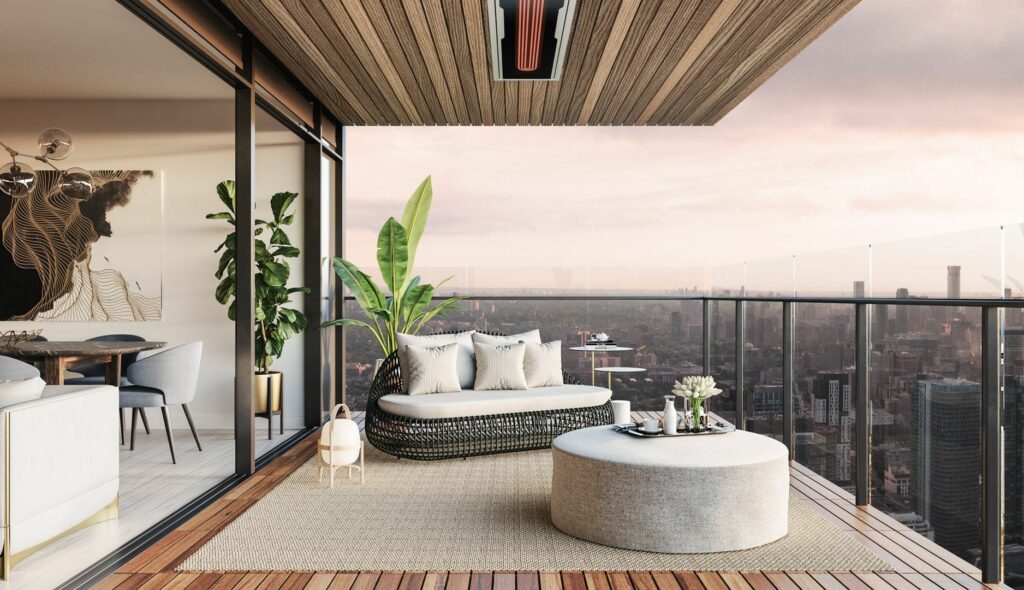 LIV x Concord Picks for Décor
Incorporating Plants & Greenery
Truly bring your space to life by adding greenery – the impact cannot be understated. This is perhaps the most important way to enhance your outdoor space. It will transport you and connect you to the natural world.  
Explore planters with different dimensions, materials, and colours to add depth to your biophilic design.
Consider vertical stands for displaying multiple plants.
Add a variety of foliage- leafy tropicals, hearty flowers, ferns, grasses, and dried florals.
Add greenery throughout. This can be incorporated with mixed succulents for tabletop or side table accessories.
For small spaces, consider hanging baskets and over-the-rail planters to leverage the unoccupied spaces of your balcony.
LIV x Concord Picks – Plants & Greenery
Choosing Outdoor Lighting
For ultimate versatility that ensures your outdoor living can extend into those warm summer nights, add carefully selected lighting to your outdoor space. You can opt for a bold dramatic effect or a more subtle ambiance. Either way, lighting helps to set the mood and ensure your outdoor space is complete.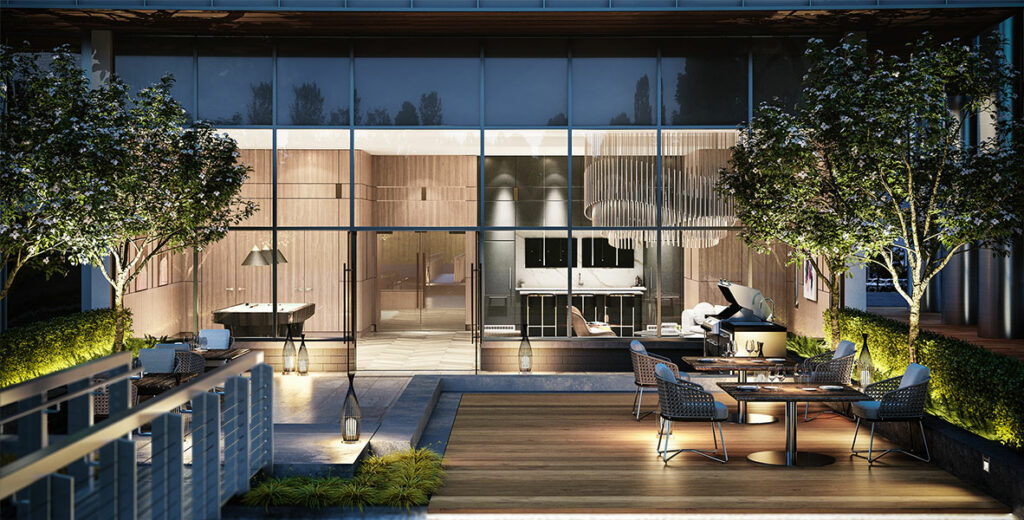 Consider concealed or recesses lighting in the ceiling, walls, or along the ground for a minimal look. This is a great way to create ambiance unobtrusively without taking up too much space.
Ensure your placement and brightness of lighting does not overpower the rest of your designs. Low voltage lighting and low profile lamps and lanterns are great ways to infuse the space in a subtle way.
Solar-powered lighting options are an eco-friendly and sustainable solution.
Explore a variety of different lighting options from hanging string lights, sconces and standing lamps – you never know what will inspire you.
LIV x Concord Picks – Outdoor Lighting
Ultimately, a well-designed outdoor space will enhance your home living experience in fundamental ways. It will draw you into the wider world, bringing you closer to nature and expanding your sense of home. It will restore, revive, and inspire you.
Join the conversation by tagging @LIV.DesignStudio and @ConcordAdex in your next outdoor living design project. And discover our previous article with Concord Adex – Interiors: How to Accessorize your Home
---
Stay connected with LIV Design Studio – Subscribe to our newsletter here.