As part of our continued commitment to the design community and our collaboration series, LIV Design has joined creative forces with longtime partner and client, Toronto's Concord Adex, to discuss simple, beautiful ways you can accessorize your home.   
LIV has enjoyed a long and productive relationship with Concord Adex – a subsidiary of Canada's largest community builder, Concord Pacific. The Concord Group of Companies can be credited for some of Canada's largest skyline defining communities and continues to shape residential living across Canada, the US, and now the UK. Innovative design thinking, commitment to sustainable, LEED construction and, most importantly, the cultivation of liveable communities, define Concord's considered approach to development. Currently, they have a number of large scale master-planned, residential/mixed-use communities underway, in various stages of planning and development.
We've worked together on a number of projects over the years in the Greater Toronto Area including Concord's Toronto Presentation Centre, and the display suites for Concord's King's Landing and Omega projects. A key part of designing for Concord Adex is accessorizing and styling the display suites to help visitors better envision how spaces can be used in daily life. It's our final, finishing touch in the interior design process that brings everything together. The same principles we employ commercially for these design suites and centres, apply to decorating residential spaces as well. Together, we've outlined some recommendations for our readers based on our expertise and design aesthetic.
In this article, we are breaking down our best advice product suggestions for accessorizing your:
Accessorizing your Home
Personalizing your space is so important. It is a manifestation of who you are and an articulation of what 'home' means to you. Both the LIV and the Concord Adex teams have extensive experience designing and building for multi-family residential communities, together we share an unparalleled vision for condo interiors.  
So we are teaming up again to share some advice on smaller design elements that we believe will not only personalize and enhance any living space but specifically, more compact ones. Choosing the right accessories and elements must be done thoughtfully to avoid overwhelming the space. Optimally, the elements chosen should not only have inherent aesthetic value but offer functionality too.  
We've also selected some items from our favourite stores in Vancouver and Toronto to help you accessorize your home – all available for delivery or pick up. We also encourage you to rethink items you have in your home, that may not yet know their aesthetic potential. Upcycling forgotten gems, repurposing lifeless pieces, and even DIY art projects are great ways to refresh your space while minimizing your environmental footprint.
RECOMMENDED READING>> Most Common Design Mistakes Made by First-time Homebuyers
Tables
A table announces the key function of a room. It dictates whether you'll be eating there, storing your keys, reviewing paperwork, or simply enjoying an afternoon tea break or evening cocktail. By extension, the style of table you choose will be informed by its function.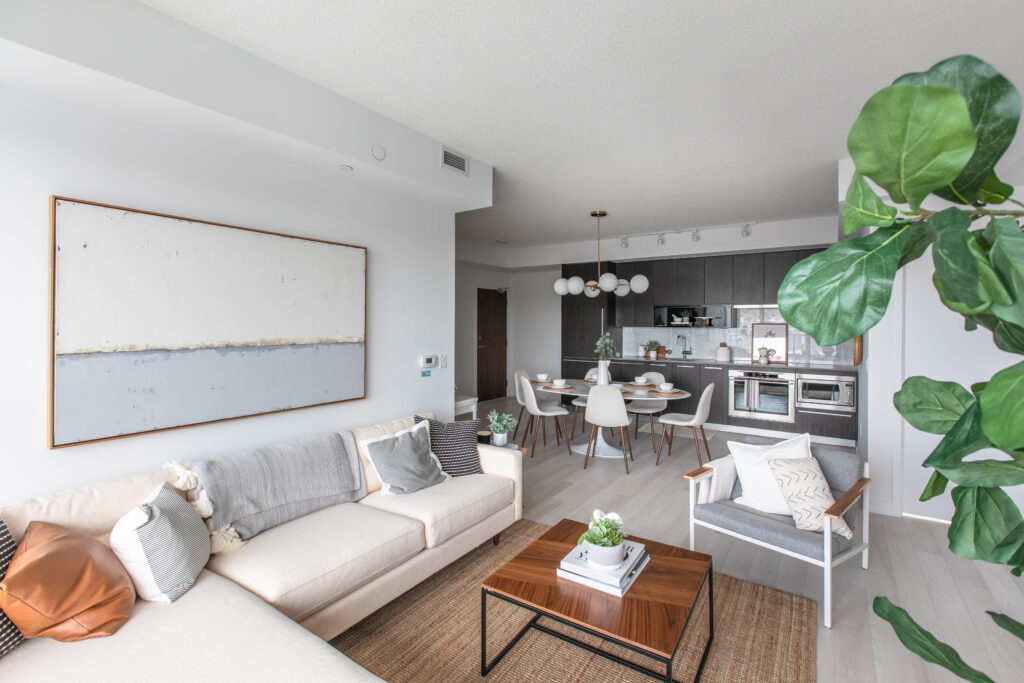 When accessorizing your table:
Include objects of varying height and dimension for visual interest.

For coffee tables, place a beautiful book or assortment 2 or 3 to add colour and personality; carefully chosen books will offer visitors an idea of your interests.

Use cool trays or tech organizers to ensure your desk or console table looks sleek and clean.   

Keep bedside tables spare. A lamp and a book typically suffice to personalize these smaller tables.

A selection of freshly cut flowers in an elegant vase or a potted fern or palm in a beautiful container will add charm, colour and whimsy to any surface – and any space in general.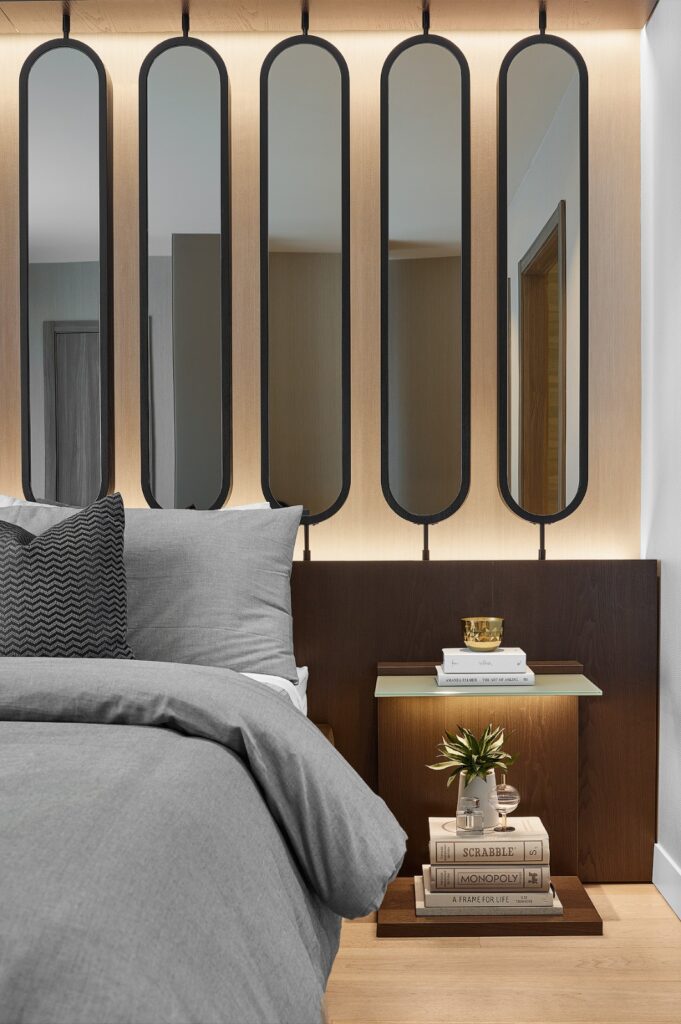 LIV x Concord Picks to Accessorize Tables:
Coffee Table Books:
These beautiful books are all available from Vancouver's Inform Interiors.
Trays:
Coasters:
Vases:
Candles & Objets
Plants:
Bar Carts
Once a living room stalwart from the bygone era of Gimlets, Mint Juleps and stiff Old Fashioneds, bar carts are back in favour with designers. Maybe we can blame Mad Men or simply our fascination with sophisticated mixology, but the bar cart or utility cart is once again an elegant and multi-functional piece suitable for any home.  
The bar cart essentially serves as open storage for glassware, stemware, decanters and bar accessories sparing space in your kitchen cabinets for other items. In small spaces, bar and utility carts are excellent multi-purpose systems that provide mobile storage. Reference the following tips when deciding on a cart display:
Many liquor bottles are exquisitely designed glass vessels. Choose an assortment of shapes and sizes to play with.  

Consider showcasing products produced by local distilleries or vineyards and some iconic bottles like Campari, Cinzano or Lillet.  

Do not overcrowd your cart.

Mix it up with a fruit bowl, vase, stack of books or even a lamp – variety is the spice of life!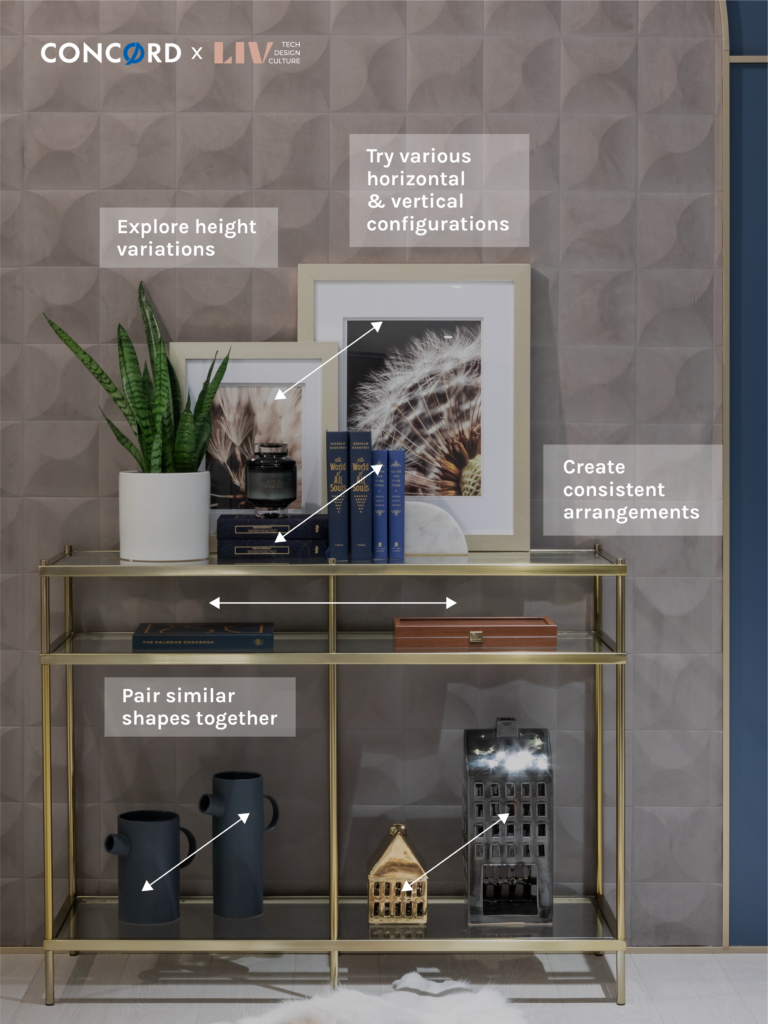 LIV x Concord Picks to Accessorize Bar Carts
Bar Cart Accessories:
Shelves
Shelves are essential for most living spaces. They sometimes help define a space but most often are needed to store and display books, mementos, photos and artwork.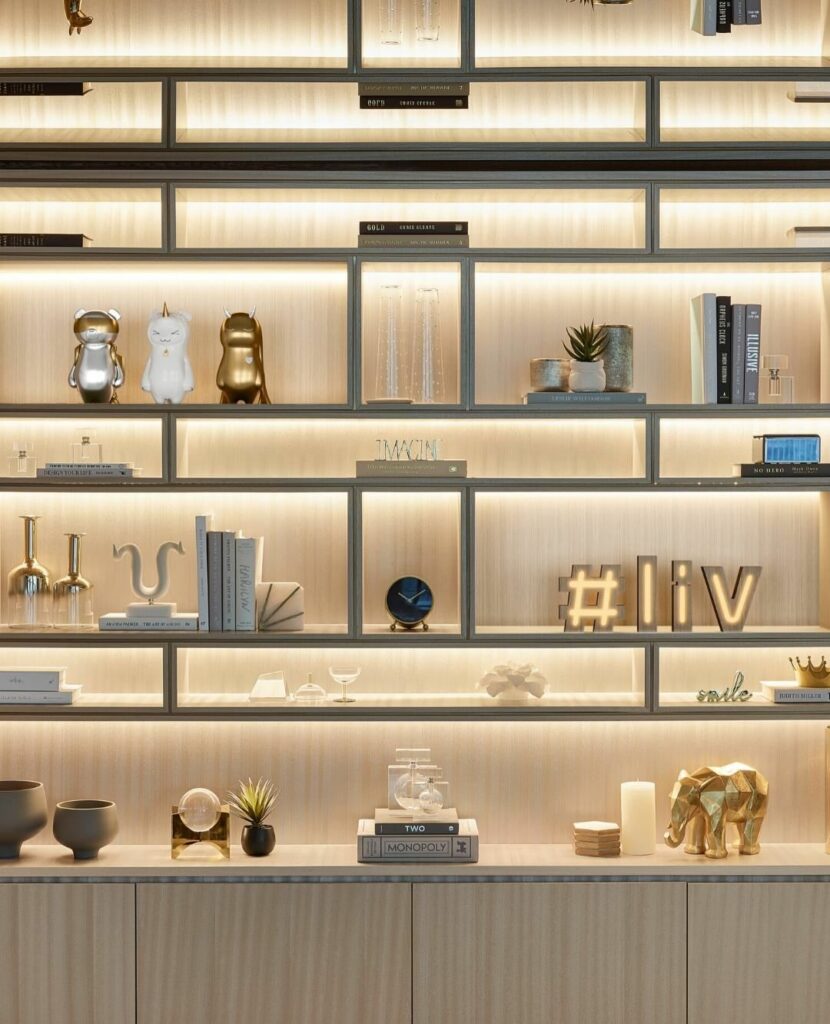 We do recommend, however, that you treat your bookshelf as something more than a storage unit and consider the following tips when organizing them. 
Regularly edit what you place on it. Your entire book collection need not be on display, and this is a great place to experiment with repurposed or upcycled items from around your home 

When choosing which 'objets d'art' like sculpture, bookends, photos, candles etc. to display, select a colour scheme for visual consistency and appeal.  This is especially important if the shelving unit is big. A theme offers consistency and creates a cleaner look. 

Make groupings with your edited selection of books, vases and objects. Step back from your shelving unit to gain a sense of distribution and balance, playing with the heights and items to create balance and beauty.  

Use your larger items to anchor smaller ones – large vases, trays or a selection of books – they will attract the eye. 

Display your books carefully.  Stack larger books 2-4 high horizontally while leaning others vertically and employ bookends for smaller editions.  

Add framed artwork and photos last. For added layers place smaller frames atop books or on a tray. This goes for candles and sculptures as well.  
Also, consider floating shelves or slim picture rails instead of a large bookcase, especially in small spaces. These convey a minimalist aesthetic and offer an alternative surface to showcase your objects, art and photos.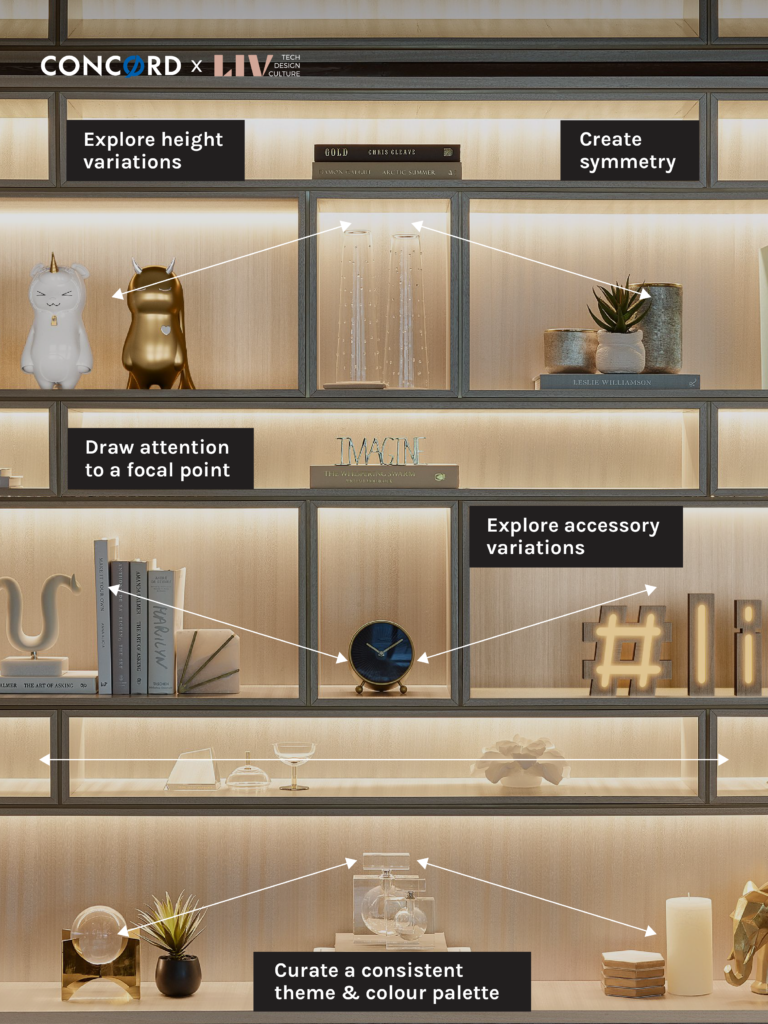 LIV x Concord Picks to Accessorize Shelves
Bookends 
Statues  
Candles & Objets:
Vase:
Walls
The colour of your walls will imbue the first layer of tone and ambiance to a space. However, it is what you layer next that truly reflects your personality and design aesthetic. Artwork and wall coverings work to strengthen the concept or design direction of a space. For example at Concord Adex's Omega display suite, Spaces Collective styled our interior designs with earth-toned walls punctuated with artwork that depict nature, boosting an earthy, biophilic aesthetic.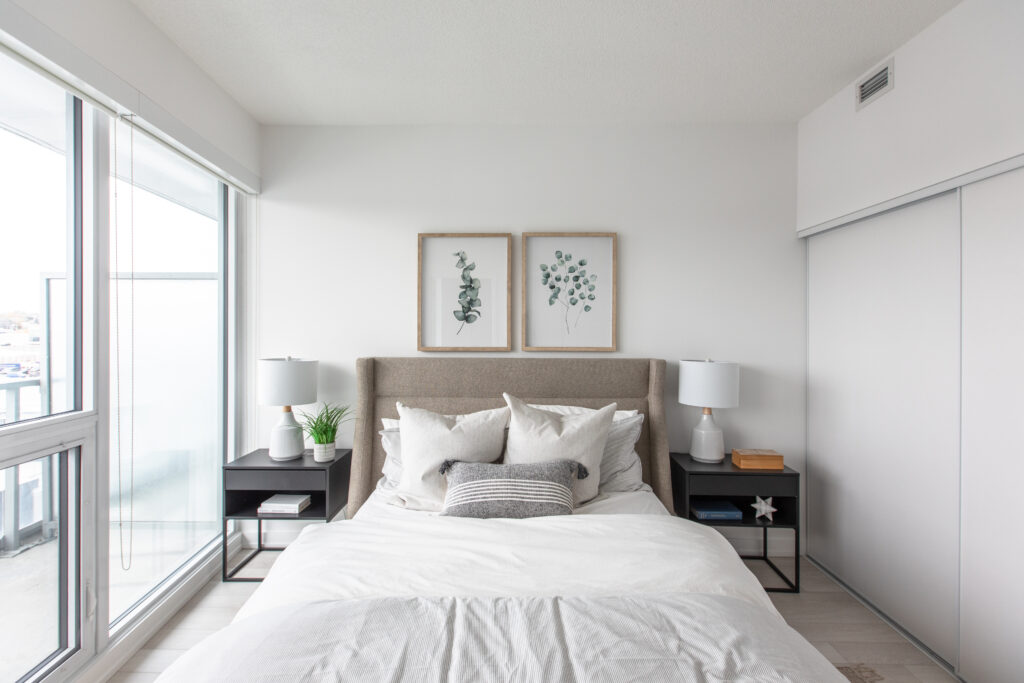 In determining what to do with your walls, remember:
Regardless of whether you have the budget to buy original artwork or rely on prints and poster art, all can effectively and creatively enhance a space. 

Take the time to frame your wall art and to hang it properly. Even one framed piece immediately adds an air of completion to your home.

Textile art and tapestries are trending strongly in home decor and add another interesting dimension to a space. Reminiscent of 1970's boho décor, macrame, punch needle creations, weaves and tapestries are enjoying a significant revival. Contemporary textile artists are reinventing these intricate, highly textured handicrafts, modernizing techniques, materials and designs. They will look fresh and original on almost any wall. 
Another way to accessorize a wall is simply by papering it. Wallcoverings have come along way and can dramatically shift the mood of a room. Large botanicals are currently trending as well as metallics and smaller, more delicate designs. Alternatively, simple woven coverings add texture and dimension to a space as well. Consider papering a small wall for impact.  
LIV x Concord Picks to Accessorize Walls
Artwork:
Wallcovering:
Textile Art:
 Hooks: 
For more interior design inspiration, follow us on Instagram! And be sure to tag @LIV.DesignStudio and @ConcordAdex in your next home accessorizing project.