Between the East that enchants me and the West where I belong, I take the similarities and turn them into furniture and decor to give rooms a profound sophistication and timeless elegance."
~Giorgio Armani
When creating a space and coordinating design elements, the importance of upholstery, textiles and textures cannot be understated. For interior designers, they are an important tool for creating a mood and setting the tone for a space based on a client's needs and the intended purpose of the space. Choosing the right fabrics, wall and window coverings and other soft finishes help designers create a cohesive look, convey luxury, and realize their design vision.
Today we explore how LIV uses textures and textiles to add depth and elegance to a space. And, in celebration of the recent opening of Armani Casa in Vancouver, we also honour the incomparable Mr. Armani and discuss his impeccable use of textiles and textures in his interior design.
Luxury and LIV
The LIV design team, like Mr. Armani, has always understood the intrinsic design value of texture and textiles in creating a luxurious space. Fabrics and finishes are carefully selected for walls, windows, floors and furniture to create a mood, set a tone and tie design elements together in a harmonious way.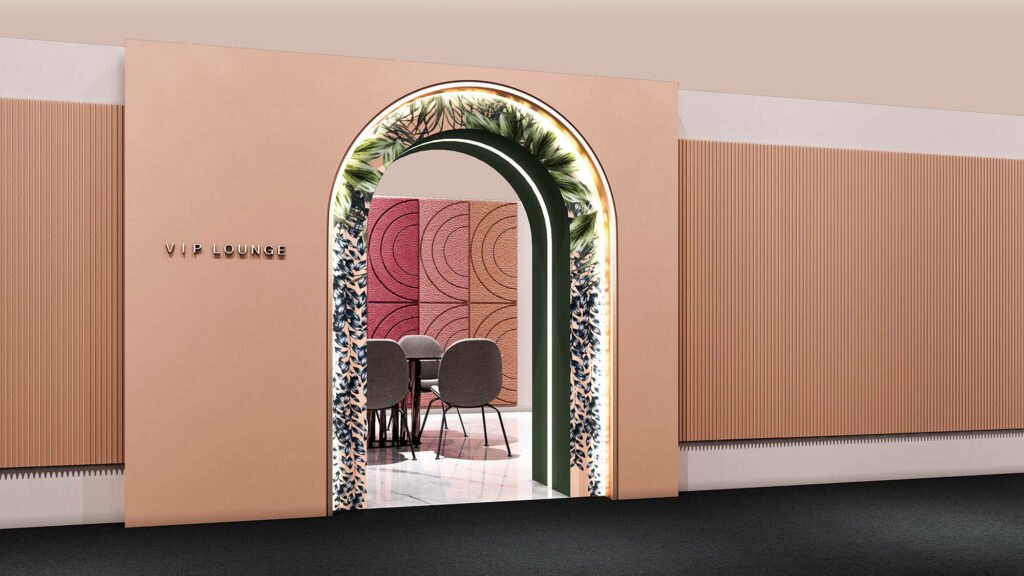 For LIV, each design choice must evoke an emotion. It must tap into a deeper experiential psychology.  The challenge, of course, is to appeal to the well-being of many stakeholders and clients and ensure the spaces we design can stand the test of time. This is something we consider carefully when choosing all finishes and textures. Not only must they strengthen and reinforce the design concept, they must endure. They must also enhance a users' visceral response to a space. A rough-hewn stone on a fireplace, for example, is distinctly more primal, earthy and warm while a metal clad fireplace will feel cooler, cleaner and perhaps more austere.   While a damask or textural wall covering, in turn, can convey either an opulence or a biophilic warmth depending on the pattern selection.
Textures & Textiles
For LIV, the importance of textiles in creating a sense luxury informs so many of our design choices from walls and window coverings to carpets and upholstery. Every design element that requires soft finishes is carefully considered for both aesthetic and functional elements. Honouring the original creative vision is always top of mind when deciding on design elements, textures, colours, and patterns; each one should help realize the vision and create a desired effect. To this end, LIV works closely with suppliers and creators to select and curate the right materials and pieces for every project to ensure the right tone is set for a space based on a client's needs and the space's intended purpose.
The H Tasting Lounge LIV designed for the Westin Bayshore lobby offers a perfect example of how a sense of luxury is created through the careful selection of varied finishes and textiles. The Art Deco inspired interior features a variety of plush velvet seats, leathery banquettes, and marble topped tables with exquisite gold detailing. Structural columns are clad in long vertical gold-plated steel tubes that provide wall protection and royal blue velvet panels that aid with acoustics but look sumptuous and decadent at the same time. A key feature within the dining lounge is the 21' long cocktail bar.  The bar's leather padded front panels and natural stone countertop is accented with gold banding and LED lighting.
Centered in the lounge's ceiling is a custom glass art installation we designed with an LA based glass and light studio. Each unique piece of the installation's hand-made Bohemian glass was carefully shaped, polished and positioned to mimic the air current generated by an airplane's propeller. We carried the visual concept of an airplane propeller's rotating movement throughout the space in our metal screen designs and various other design patterns on the walls, seating, etc. All the custom elements of this space allow it to stand out as a true original and successfully establish the look and feel of an opulent, 1920's speakeasy.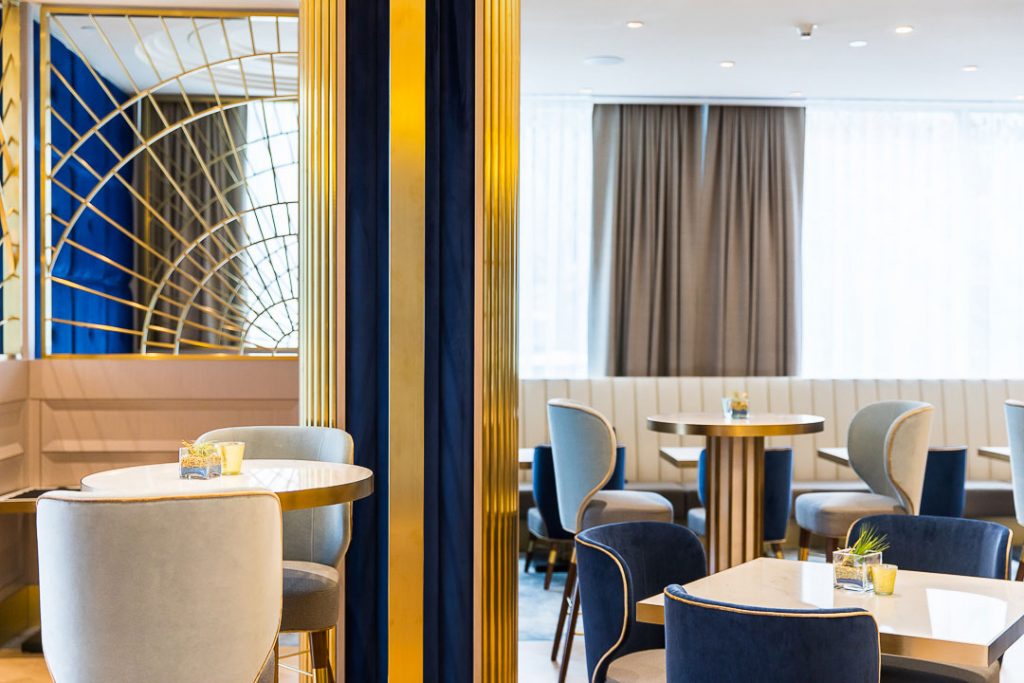 For our King's Landing project, we were tasked with developing 2 distinct design concepts for the display suites. Option 1 needed to be sophisticated and timeless while Option 2, more vibrant and modern. Both needed to look luxurious. Through a careful selection of colours, fabrics, and textures we succeeded in realizing these visions.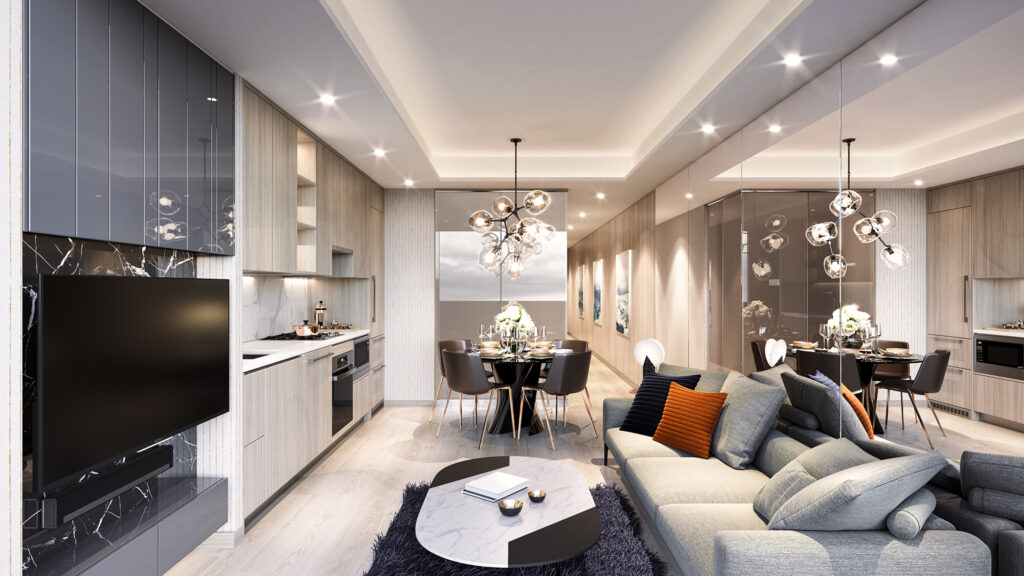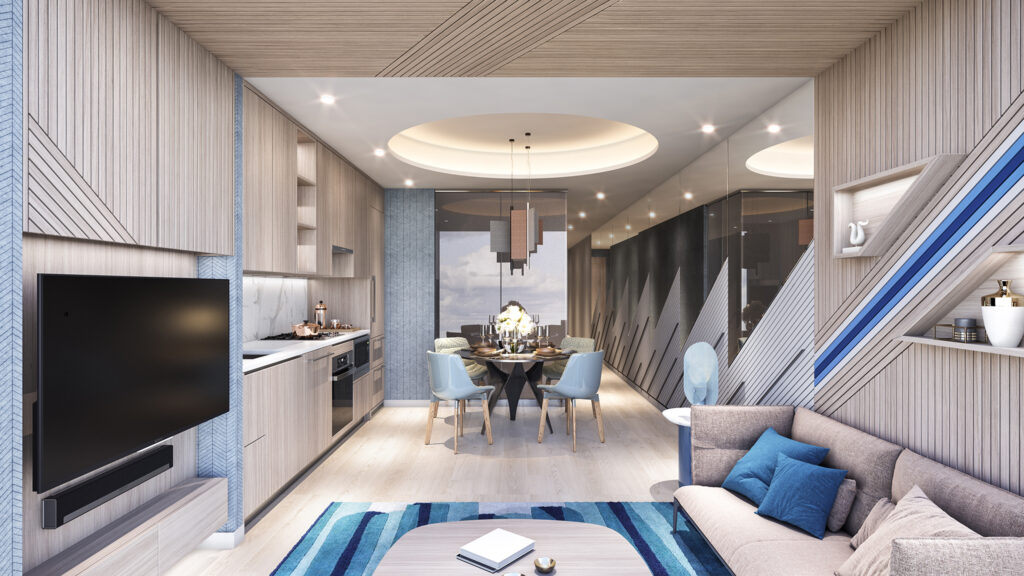 For the groundbreaking The ARC project in Vancouver, the client wanted to capture the feeling of a luxury hotel in order to differentiate itself from other residential towers in downtown Vancouver. The LIV Design team began by looking at various high-end, luxury hotels in Europe for inspiration, making careful note of the lobby, amenity spaces, what kind of finishes were used, and what kind of features were memorable. The team spent a lot of time refining wallpaper and carpet designs to ensure a luxurious look and feel. The furniture, too, needed to complement the vision and offer durability.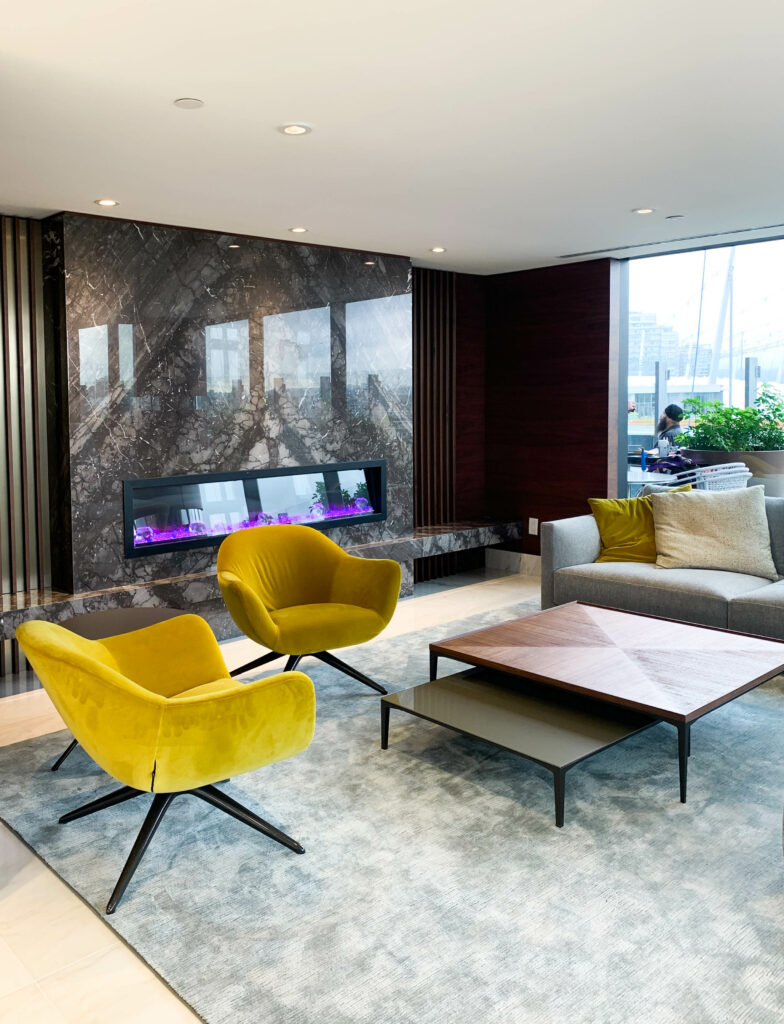 All of these projects demonstrate our use of textiles and textures in creating a mood and setting a tone. The soft finishes tie all the design elements together creating a cohesive, luxurious space.
Luxury and Armani Casa
Armani has always epitomized luxury. For him, luxury is the harmonious combination of elegance, uniqueness, and craftsmanship that pays subtle homage to different worlds and cultures. It is understated and refined employing the finest materials, purest lines and a timeless palette of natural colors.
Armani Casa Opens in Vancouver
Armani Casa is the expression of Mr. Armani's own vision of the home – intimate, comfortable and effortlessly luxurious – a place to relax, unwind and entertain. And no one is more attuned to the impact of textures and textiles than Giorgio Armani. Having worked with the finest fabrics in his couture endeavours, his expertise and knowledge of textiles is vast and naturally extends to his Armani Casa collection. The exclusive textiles used throughout his home collection are opulent and evocative, exclusively created in collaboration with the historic Rubelli textile manufacturer.
Launched in 2000, Armani Casa endeavors to expand the inimitable Armani style and philosophy to interior and exterior spaces around the world. Under the watchful eye of the maestro himself, Giorgio Armani, a team of experienced architects and designers in Milan work on a variety of projects from luxury hotels to private villas and yachts.
The aesthetic, of course, is well known – a beautiful muted sophistication that is simple, elegant and nothing short of exquisite.  Long admired by the LIV design team, we subscribe to a similar design philosophy that celebrates subdued luxury, quality workmanship, and refined finishes. In fact, custom wall coverings and sumptuous upholstery are hallmarks of many of our award-winning projects.
At the Vancouver showroom, visitors experience the Armani brand first hand through the furniture, textiles, accessories and objets d'art on display – all epitomizing the good taste and understated luxury synonymous with Mr. Armani's atelier.  
Visiting Armani Casa is an immersive, sensual experience. In addition to the gorgeous furniture, the showroom is filled with sumptuous upholstery and wall coverings. Today we talk to the Nora Szeleczky, Director of Armani/Casa Vancouver, about the textiles and textures Armani is favouring today- how they enhance a space and embody the brand.
Colour is Critical
Typically muted, we are now seeing some brighter hues. Mr. Armani is exploring overarching themes of lightness in all his Casa designs marrying rigid wood and leather surfaces with rich, woven textures and textiles inspired by the obi – the Japanese sash worn mainly with kimono.
Bolder Patterns and 70's Influences
Bolder patterns and 70's influences are taking the design world by storm. Mr. Armani, however, does not follow trends but simply his own inspiration and vision of sophisticated simplicity. Currently, Japanese iconography is informing his designs, colour selection and textures. Allusions to nature figure prominently – hot springs, bamboo forests, ethereal landscapes and the lightness and fluidity of waves. He is using muted shades of pink, apple green and light blue punctuated by more vivid tones like red, forest green and petrol blue. Coincidentally, some of these features are reminiscent of 70's – back to nature textures (tatami), geometric shapes and vibrant colour characteristics.
Armani/Casa Exclusive Wallcoverings offer a wide selection of wallcoverings, characterized by refined patterns in Armani's perfect style, made on precious material. The key elements of this year's collection marries these natural elements with modern graphics  – macro chevron motifs placed on marble backgrounds or trompe-l'oeil effects of draping veils – and textures evoking traditional techniques like straw marquetry and Japanese tatami.
Elements of his fashion collection are also reflected in his wall coverings like the precious embroideries evident in his Armani Privé clothing collection. Evocative digital overlays embue a sense of lightness while three-dimensional graphics in pearlescent finishes and fine neutral and pastel palettes in neutral and pastel hues add contemporary sophistication.
Precious pleats, again from the fashion world, are reminiscent of trompe-l'oeil imagery while natural linen gauze materials with flowers punctuated by geometric shapes evoke the Japanese aesthetic so prominent in the current collection.
Armani and Rubelli
Rubelli is a fifth generation, family-run Venetian textiles company founded in 1858 and renowned for exquisite craftsmanship, innovative materials and a highly sophisticated product.  For Mr. Armani, the collaboration was a natural extension of a shared commitment to quality and luxury textiles. Every year since 2009, Rubelli has created exclusive textiles for Armani Casa that employ a conceptual use of colour from luminous shades of red and petrol blue to more classic, 'Armani-esque' neutral hues. Each collection conveys the deep relationship between fashion trends and furniture.
Giorgio Armani's Rubelli collection references art deco and his beloved Japanese figurative art, as well as in the animal print patterns and the timeless chequer pattern.
Two key decorative designs this year pay homage to Japan. Okinawa is a jacquard that echoes patterns of his 'Oriente' rug featuring an ethereal, dreamy Japanese landscape of trees and hills fading into clouds; shaded gradients depict the harmony of nature and pure silk threads are expertly woven together highlighting Armani's attention to detail and fine workmanship. Armani has used it in various shades for the Oris Bed.
Also distinctive are the soft and shaded palettes and the use of "non-colour colours" which have always been a characteristic of the Armani aesthetic. Distinctively 'Armani' are the forays into strong colours which contrast with the more neutral dove grey, sand, ivory, beige and greige. Ruby red, jade green, Arctic blue, coral orange and luxe metallic shades make up a sophisticated colour scheme which in places mirrors the same palette we see on the runway at shows. Taking their rightful place alongside designs and fabrics with decorative patterns are special textures, micro patterns, pleated fabrics and embroidery and the requisite canneté.
Through its age-old know-how and complex and sophisticated manufacturing and design techniques developed in its atelier and workshops, Rubelli translates the creative genius of Giorgio Armani into haute couture furniture collections.
The Odaware pattern is a jacquard that features kimono motifs and embroidery. Again natural elements like trees, flowers and rivers figure prominently. Mr. Armani has used this fabric on the Ofelia chair and on the Onsen throw blanket.  This pattern is available in bright red, lime green, pink, lilac and light blue as well as in classic black.
Less ornate and ultra-sophisticated is the exquisite Nara jacquard. Simply textured with shiny wefts and inspired by tatami, this fabric is featured on the Onda, Odino and Ombra pieces of furniture in the Armani Casa collection.
Rubelli innovations in upholstery fabrics
Rubelli designers and creators bring unparalleled technical, artistic and traditional skills to textile development. The mill in Cucciago, near Como produces the high end fabrics Armani Casa and other customers have grown to expect. Blending tradition and innovation, Rubelli is continuously seeking new sources of inspiration while drawing upon a vast, historical archive. They use 28 latest generation electronic jacquard looms to produce contemporary fabrics with both natural and synthetic fibres that are high performing, flame-retardant, colour-fast, for indoor and outdoor uses.
In addition to these modern looms, Rubelli salvaged and restored four historic looms to working order in 2004 to meet increasingly frequent requests from customers for soprarizzi, i.e. handmade velvet. And this year, Rubelli debuted a state-of-the-art fabric that looks and feels like fabric you could wear but is durable and versatile; the weaves and colorways are modern and sophisticated and use natural yarns such as linen, wool, silk, hemp and cotton. Some of the most beautiful damasks and brocades are made of silk and are typical of the period between the XVI and the XVIII century. These weaves create exquisite rich and complex patterns. 
Armani's Textiles and the Brand
The high-design and subtle luxury associated with Armani's fashion line extend easily to Armani Casa thanks in part to the look and feel of the fabrics used. The heavily textured, nature-inspired textiles featured in the latest collection of Armani Casa furnishings, wall coverings and household accessories are the direct result of the close collaboration with Rubelli. The finest quality, artisanal Rubelli textiles are embued with the subtle sophistication and design sensibility synonymous with the Armani brand.
The textiles created exclusively for Armani Casa feature traditional and modern techniques, precious and sometimes unexpected materials, and Oriental elements modernized through color and motifs – combining to complement and embody the luxury associated with the Armani Casa brand perfectly.
(See the Architectural Digest article on this collaboration "Let your home bask in utmost luxury with these furnishings by Armani/Casa-Rubelli").
Both Armani and LIV recognize the key role textiles and textures play in elevating design; they complete the spatial experience. To create truly sumptuous, immersive spaces for our clients, LIV always pays meticulous attention to the tactility and finishing of every design element ensuring a cohesive, luxurious result.
---
Check out some of our other articles discussing design, LIV's inspiration and projects:
Design Deconstructed: The Arc Vancouver
Design Deconstructed: King's Landing, Toronto
Cover image source: Unsplash