The COVID-19 pandemic has impacted our day-to-day lives in so many meaningful ways, and has forced us to re-examine how we view and interact with the world around us on practically every level. Our relationship to the home has never been stronger, and the methods by which we work and shop have been turned on their heads.
So, how does this translate to the way we design our interiors? These unique times call for adaptable design that inspires feelings of warmth in the end-user – two things we have always strived for here at LIV but have taken on a new meaning in this unprecedented era.
The post-pandemic world demands an evolved perspective; one that is at once comforting yet constantly in flux. From retail spaces to the office, and particularly at home — the design world has had to reconsider everything it thought it knew about modern interiors.
We'll look now at some emerging trends that have come to characterize the post-pandemic period, honing in on some of our own designs that embody these principles.
Post-pandemic interior design trends
The pandemic has brought on the realization that our homes should not only be livable, but also versatile enough to be able to adapt to different functions such as living, working, and studying — all within the boundaries of a safe, inviting space.

Dickson Chu, LIV Design Studio
1. Modular layouts
Ever-changing needs require equally adaptable interiors. At once it seemed, our homes became our workspaces, and our offices did away with static desks and layouts, moving instead towards a more collaborative mode of working.
The design of the future is multi-functional and in harmony with the end-user, more meaningfully than ever before. Modular sofas and sectionals have seen a marked rise in popularity as a way of rejuvenating spaces and extending functionality, while screens and dividers have become a necessary means of delineating boundaries between work and play.
Designers would do well to incorporate adaptable elements into their work going forward, as clients seek more from their living spaces. Pieces that allow for multiple configurations or that provide convenient storage solutions have taken on new value as we seek a higher level of personalization and purpose within the home.
In the retail sector as well, the traditional storefront quickly became a chimera in its own right, changing forms constantly to entice wary shoppers back within its doors. Adaptable shelving and wall displays allow for cost-effective re-invention at a moment's notice, as well as incorporating experiences in a way previously unseen.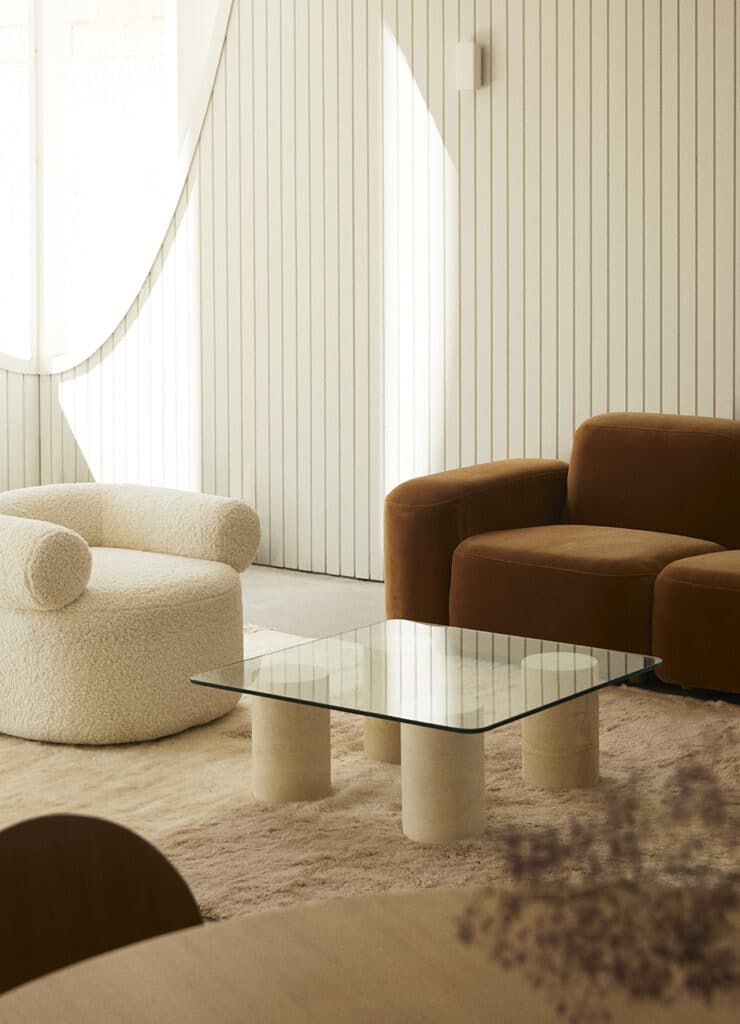 For more of our favourite modular sofas and sectionals, be sure to keep an eye on this month's #LIVtrending on both Instagram and Pinterest.
2. Sanctuary spaces
As the boundaries between home and work continue to blur, we're increasingly seeking out intentional spaces that offer comfort and reassurance in the midst of uncertainty. Perhaps one of the lasting consequences of the pandemic era will be that our relationship and understanding of how we interact with and understand our homes has never been stronger.
Since our travel plans remain largely on hold, individuals are looking for ways to make their home feel like a retreat. As such, it's always a perk to have their personal living space extended by having fun and generous amenity spaces included!

Lina Deng, LIV Design Studio
Surrounded by the same four walls all day, we've necessarily taken on a lot of introspection with regards to our surroundings. The textures and shapes of our everyday objects have assumed new significance, and every space must now have a clearly delineated purpose.
Intentionality and a considered approach to consumption have guided minimalist design to new heights, as our de-cluttering efforts lead to pared-down interiors where we can enjoy meaningful comfort. This has also resulted in a growing emphasis on well-made, long-lasting pieces which lend a sense of stability in constantly shifting times.
Further reading — Home as Sanctuary ft. Inform Interiors
3. Indoor-outdoor furnishings
Indoor-outdoor living has been gently guiding design for years now, and has taken on a new urgency in response to recent events. Our innate connection to nature has seen the incorporation of biophilic elements within the home, while outdoor spaces such as courtyards and balconies have become secondary living and working spaces.
At the most basic level, this has meant an increasing pursuit of natural light, harnessing lighter-toned colour palettes, mirrors, and minimal design to illuminate every corner of our homes. Plants as well have seen renewed interest from the average consumer, as a way to interact with and nurture our natural environment from the comfort of our own homes.
The outdoor living trend is certainly here to stay. Even prior to the pandemic, we were encouraging the incorporation of outdoor living principles and green lifestyle elements throughout our designs. As perspectives change, we foresee more and more clients seeking out outdoor spaces such as solariums within both homes or businesses.

Dickson Chu, LIV Design Studio
Pieces that are able to find function both inside and out have become the norm, such as outdoor furniture that is equally at home indoors thanks to waterproof fabrics or versatile design aesthetics. Glass doors and transitional spaces have found their way into many a design, as users seek the comfort of the outdoors within the walls of their home.
Here at LIV Design Studio, incorporating natural elements into our design has always been a core part of our process. Take, for example, this suite balcony from a rendering done for the Concord Canada House in Toronto. The plush, rounded pouf offers indoor-outdoor functionality, while sliding glass doors provide a seamless transition between unique spaces.
Further reading — Four Elegant Design Principles For Indoor-Outdoor Living
In the continued absence of many of our traditional community spaces, design has risen to the challenge of fostering feelings of togetherness in even the most isolated spaces. In both our professional and personal lives, we've adopted new modes of interacting with our peers and those closest to us.
In the design world, this means the development of virtual trade events, shows, and galleries to accommodate for collaboration in a physically-distanced world. On a more personal level, designers must now plan for spaces where individuals can separate themselves from the world while they conduct video calls and meetings.
As our laptop and phone cameras see more and more use, the backdrops of our video calls have become design marvels in their own right, as we tailor our surroundings to present a certain image to our peers. Camera-friendly furnishings and abundant plants have quickly become important tools for building our digital personas.
Though the way we interact with those closest to us may have changed, our natural need for connection has not. The goal of design now is to reinforce these connections wherever possible by embracing new modes of communication and interaction.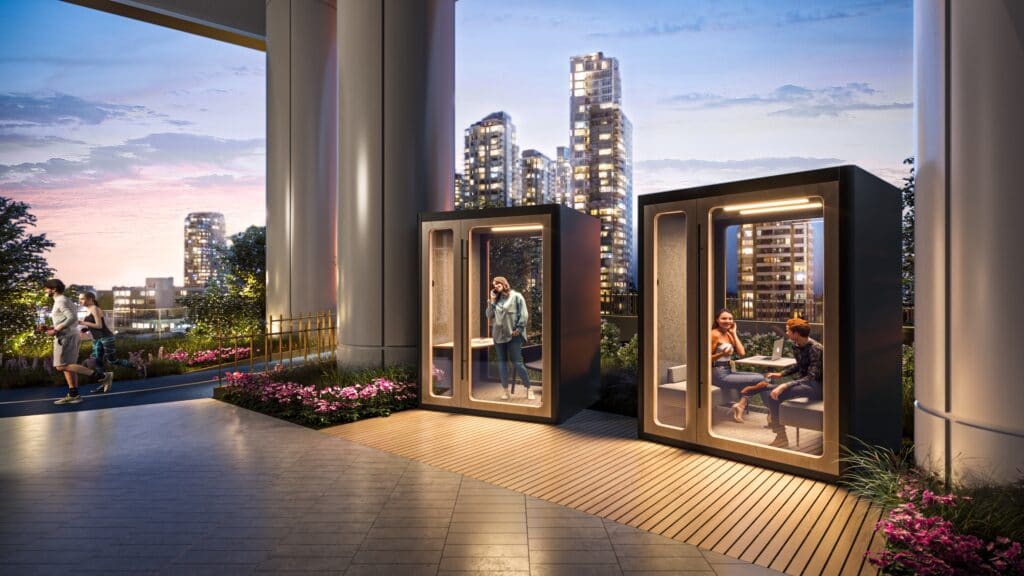 5. Digitalization
The accelerated push towards digitalization has resulted in new avenues for design, both in the process and the end result.
An industry that has traditionally relied so much on in-person communication and tactile experiences has had to wrap its head around all-new challenges, where renderings and photographs have surged to become the primary modes of communication.
Our unique VLD (Visually-Led Design) approach positions us for clear and effective communication and a complete understanding of each project, regardless of physical barriers. The use of CG renderings has long been a pillar of our design process, but has taken on new significance since the onset of the pandemic as a way of delineating complex concepts without confusion.
By working directly with our clients and end-users at every stage, LIV is able to incorporate feedback at every stage to create functional, timeless design in even the most challenging times.
Further reading — Ways to Stay Inspired & Engaged – Digitally
6. Sustainability & re-commerce
On both an individual and macro level, sustainability has taken on even greater prominence in post-pandemic design. Corporations are increasingly seeking new ways to add meaningful, multi-functional value to the lives of consumers while simultaneously reducing their footprint, leading to the evolution of wholly new strategies for design.
Recent data shows that as much as 83% of consumers value sustainability when making purchases, while comparatively few notice the corresponding price increases — particularly if a brand is able to explain precisely where everything comes from, and how it aids in creating a sustainable future.
Current events have allowed for a rethinking of the world around us, and have sparked a trend towards building back better. As individuals continue their efforts to re-purpose and extend the lives of their most-loved pieces, businesses and designers would do well to match this zeal with equally sustainable solutions that are both affordable and approachable.
---
Design's role in easing the transition to a post-pandemic world cannot be overstated. Our interior spaces have allowed us to navigate the challenges of the day in comfort and style, while invigorating us to develop new avenues for adding beauty and functionality to even the most seemingly mundane aspects of our homes. These key trends will no doubt guide the future of design, and their lasting impact will be felt for years to come.