"Practical and rock solid but at the same time warming and optimistic, this is a color combination that gives us resilience and hope."  

Leatrice Eiseman, Executive Director, Pantone Color Institute
Recall the last time you laid down in the warm rays of the sun, resting on a pebble beach. You were living Pantone's picks for the colour of the year 2021 —  a marriage of Ultimate Gray and Illuminating yellow.
LIV Design Studio is intimately acquainted with the pairing and has curated fresh inspiration for those who are colour-curious.
Remembering & Looking Ahead
Last year, we optimistically welcomed the new decade with 2020's colour of the year — Classic Blue. The anticipatory hue was dependable with an air of mystery. It reminded us of the sky as night descends and we used it to lend elegance and comfort to otherwise neutral spaces.
This year, after the turmoil and uncertainties that came with 2020, this new union of gray and yellow looks to the future while ringing a bell of remembrance and near nostalgia.
LIV Design's Joanna Kado finds that the pairing reminds her of what we saw in 2011's office design trends. "Ultimate Gray and Illuminating seem like a colour scheme of the past … but not too far in the past yet to be something that is coming back."
A case study in colour, this Korean office space employs yellow to add vibrancy while the sombre gray brings balance. The optimistic but grounded colour duo is at home in an office setting.
Further Reading: 2020 Colour of the Year – Classic Blue
The Colour Of Hope
While some appreciate the colour combination's not-yet vintage appeal, it's the yellow that captured the imagination of LIV Design's Tomoko Yamashita.
Tomoko's impression of the bright hue ques reminiscences of sunshine, smiley faces, and sunflowers. "It reminds me of happiness, cheer, hope, and spontaneity that we need for 2021 — especially after we had a difficult time in 2020."
According to Pantone's Executive Director, the pairing is meant to express a "message of positivity supported by fortitude." However, Yamashita points out that she sees it as an alchemy of colour. Adding yellow — hope and happiness for 2021 — to gray lightens and clarifies what came our way in 2020.
LIV Design Illuminates
For many, the new year is a time of reflection. LIV Design is looking back at a past project to explore where we illuminated our city with yellow and gray.
Honouring the commitment The ARC Vancouver made to community values, LIV Design graced its collective spaces with 2021's colours. The ARC championed the new Vancouverism by featuring over 12,000 square feet of amenity space encouraging residents to live beyond the threshold of their suite door. Employing hints of this colour scheme became a way to entice warm conversation, as well as creating stoic dependability.
Understated gray tones create an ageless neutral aesthetic backdrop while punchy yellow accents add a vibrancy that can be easily switched out in favour of new trends.
Regarding furnishings, LIV Design needed furniture that was as beautiful as it was durable. And, due to the communal nature of these spaces, it needed to appeal to a multitude of preferences at once. Ergo, subtle and substantive gray was employed. It almost matches the city's skies on the rainiest of days, while the accents made room for those bright sunny skies that Vancouverites love to enjoy.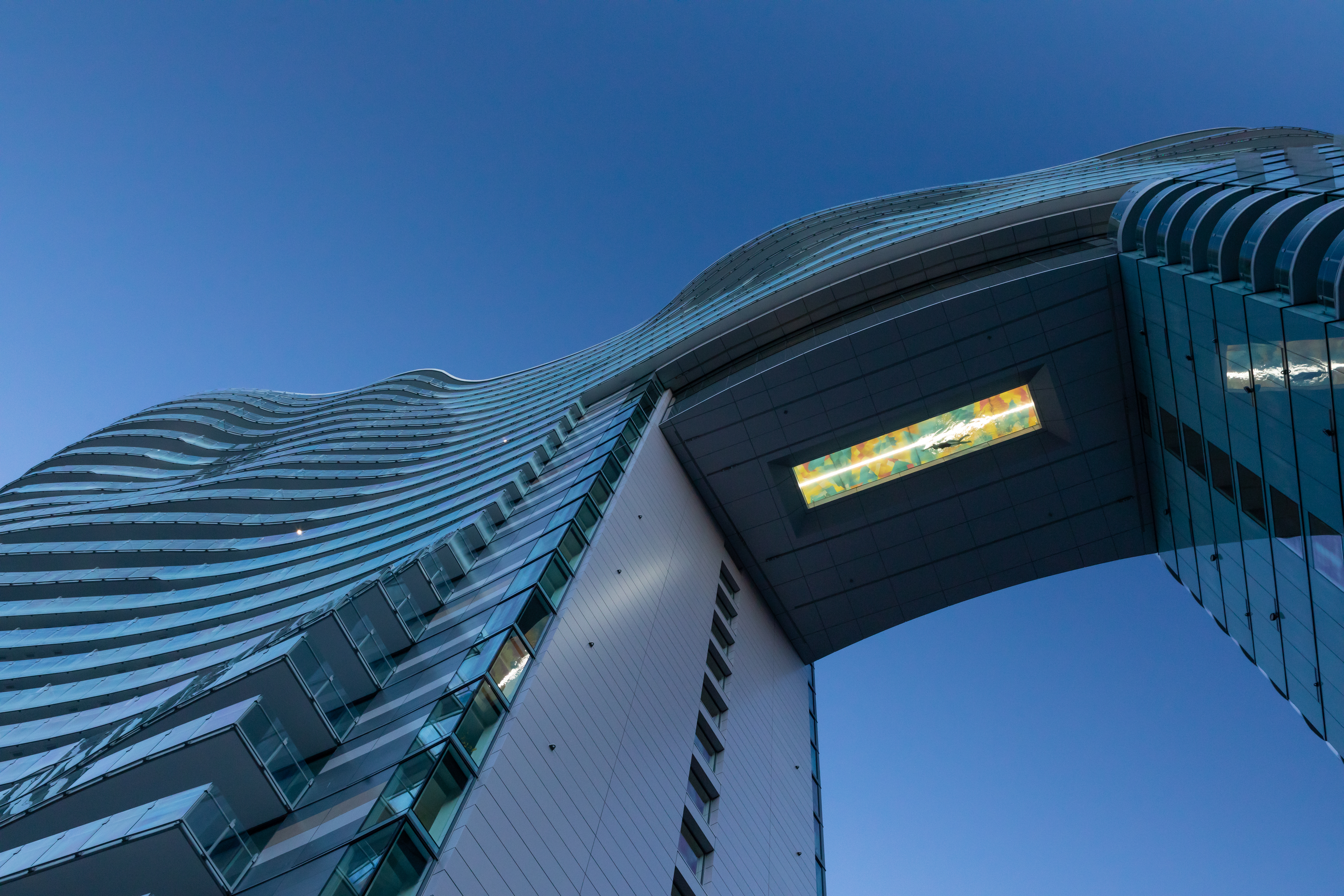 The breathtaking illuminated ceiling above the ARC's swimming pool in the sky incorporates splashes of yellow into its design which can be seen from the gray sidewalks 20 storeys below. When offset by the concrete exterior, the building has a strong resemblance to 2021's colours of the year.
Design Inspiration with Illuminating Yellow & Ultimate Gray
Here, Visualizer Konstantin Kildinov used yellow as a way to add depth and dimension to a lofty industrial space. It softens hard edges while remaining true to the urbanity of the look.
Polish design firm Plasterlina soaked a recessed kitchen alcove in the bold hue and surrounded it with lighting to pull together a sunny focal point. Tempering its boldness, the golden yellow alcove is surrounded by gradients of gray throughout the kitchen and lounge areas while warm birch flooring and details add warmth to the Ultimate Gray interiors.
Colour Trends & Your Space
To be a practitioner of colour magic you need only add these hues to your home in the form of accessories. Adding throw pillows, blankets, sheets, ceramics, art, and trinkets are tiny changes that usher in great results.
Incorporating Illuminating yellow as an accent accompanies the solidity of an Ultimate Gray neutral or monochrome space. Imagine a bowl full of lemons on a countertop. Or perhaps a vase of yellow blossoms spilling out of a concrete vase. For a more ambitious DIY project, adorn a wall with a coat of yellow paint.
Further Reading: LIV at Home – Interior DIYs by the LIV Design Team
However, Pantone's it-colours may not be suitable for everyone or every space. "These days, popular colours for interiors are a lot of crème, muted greens, pinks, and mauves," said Kado. 
"I would say bright yellow and gray should stay in the corporate or retail world of design, at least just for now," she said and noted that she isn't seeing yellow popping up in design magazines for home and hospitality spaces.
Here's where we see this colour duo shining:
Retail spaces
Offices & corporate spaces
Play areas and children's rooms
In this delightful children's room, the entire closet is bathed in Illuminating yellow. The painted arch and colour extending beyond the wall across the ceiling brings energy to the space while visually dividing it. A touch of gray is used as a cooling accent against a resplendent white backdrop.
Bestow Colour
If the solidity of Ultimate Gray and the encouragement of Illuminating yellow are speaking to you, then carry it into any space you wish. 
Even though yellow is a strong and bright colour that could be challenging to incorporate, it's also an invitation to add happiness and playfulness.
Gather blossoms into one of EQ3's Boniface Vessels to uplift any surface into 2021. Or, repose into the sunshine of Crate & Barrel's Kirby Deep Cushion Chair.
A humming shade of yellow will spring you from your sleep with these sheets from CB2. And, for a splash of colour with your morning coffee, CB2's Valley Matte Yellow Mugs are as visually stimulating as caffeine.
Invite welcoming sophistication with Cadine's 100% Italian cashmere throw blanket adorning your space. Brint the shade to life with plants. The AVA Byte Smart Garden flavours the kitchen while the Kena Plant Stand from Old Faithful Shop showcases gray at its most elegant.
"We need to feel encouraged and uplifted; this is essential to the human spirit," said Pantone's Executive Director about the hues.
At LIV Design Studio, we look forward to bringing the enthusiasm of Illuminating and the realism of Ultimate Gray into 2021 and beyond.