Excitement is building in anticipation of this month's premier design event – IDS Vancouver 2020: Digital Design Fair running from October 1-8. This year you'll be able to enjoy the very best in contemporary Westcoast product and interior design from the luxury (or comfort) of your own home. For the first time ever, as the current climate demands, IDS Vancouver will adopt a new, hybrid digital format with rich, evergreen content and experiences delivered daily.
This year's theme is "Natural Wonder". Though selected prior to the pandemic, the theme strikes a potent note for this exceptional time, reminding us of our connection to the natural elements outside our home and the importance of paying careful consideration to nature in design. 
What is IDS Vancouver?
This premier design event is the most comprehensive design event happening in Western Canada highlighting the very best of innovative local and international design. Since it was first launched in 2004, IDS has celebrated and inspired exhibitors and attendees, trade professionals and consumers, fostering deep mutual respect amongst all members of the design community through this successful forum. Annually, the show continues to expand, broadening its size and reach, while building its reputation. Last year, close to 40,000 visitors toured the event and this year, thanks to its digital re-invention, an even larger (digital) audience is expected.   
IDS 2020: Digital Design Fair – What's different this year?
The short answer – almost everything! It wouldn't be 2020 without introducing a new slant to the forum. Not only will this year's edition be partially delivered digitally, but there will also be no entry fee to attend the digital fair. Virtual programming will include a roster of illustrious speakers, online and offline events, talks, and experiences. In addition, there will be exhibitions and installations to explore in-person. This year's event will not take place Vancouver Convention Centre as it has done for 16 years, but rather in smaller, more intimate spaces with social distancing practices in place.
"In a way, I'm excited. This gives us a chance to be creative, do more intimate setups in small venues and meet the design community where they are."  ~ Jody Phillips, Director, IDS Vancouver.
What to expect?
This year, IDS 2020's programming will be a mix of on-line and off-line events. They include:
Speakers
An illustrious roster of speakers will be delivering engaging, thought-provoking talks to IDS Vancouver's digital attendees.
Discover our round-up of must attend virtual talks here.
Live Micro-events
These intimate gatherings of design-minded people will be staged at different venues throughout the city of Vancouver. Strict social distancing measures will be followed and numbers will be limited.
Discover our round-up of micro events in & around the city here.
Digital Fair
Mimicking the exhibit floor at previous IDS events that took place in the Vancouver Trade and Convention Centre, this year's reimagined edition will showcase different vendors and their products & connect with designers and the design community as a whole.
IDS 360°
Presented by Volvo Cars Canada, IDS 360° is a new virtual series created in collaboration with the industry and designers that IDS celebrates. It is a virtual series highlighting handpicked, diverse brands and their experiences in a post-pandemic world. The event includes video Q+As, product launches, studio tours, and more.
LIV Design Studio was invited to participate in this series to discuss our unique design approach known as VLD or Visually-Led Design. As well, we reiterate our commitment to our multi-disciplinary values of tech, design and culture that inform everything we do. View our IDS 360° piece, here.
LIV's Virtual Guide to IDS Vancouver 2020
LIV's Top 10 Picks:
Micro Events:
1. Italian Design Days with Armani/Casa
This is a live micro-event organized by ITA Italian Trade Commission, the Consulate General of Italy in Vancouver, encouraging visitors to experience the genius of Mr. Armani at Canada's first Armani/Casa showroom located in Vancouver's Armoury District. Experience first hand how Armani/Casa modernizes the way spaces are used with every detail being meticulously conceived to create the subtle luxury associated with the brand.
When: October 1, 6
Where: Armani/Casa Vancouver, 1656 W. 2nd Ave
2. Where the Wild Things Are
Visit the Where the Wild Things Are window installation at iconic Vancouver retailer, Inform. Designed and created by Halifax-based architect, Omar Ghandi, artist Nathalee Paolinelli, and Twigs Twisted Botanicals, this fantastical floral and botanical installation celebrate both the celebrated children's book by Maurice Sendak and this year's theme – Natural Wonder – in a grand way.
When: October 1-8 (Closed October 3,4)
Where: Inform Interiors, 50 Water St
3. Bonnetti Residence Tour
Livingspace founder Ross Bonetti will open up his beautiful BattersbyHowat- designed Westcoast contemporary home to the public (following social distancing guidelines) on Saturday, October 3 in West Vancouver. Pre-registered attendees will move through the house in groups of 6 or less to ensure maximum social distancing. Register here.
When: October 3
Where: Bonnetti Residence, West Vancouver,
4. Design x Sound 
Immerse yourself in the latest in design and sound trends at Inspiration Furniture's 40,000 sq ft safe space. Inspiration has teamed up with Chopvalue, BoConcept, KARE, Bang & Olufsen, and Botany Agency to create displays that showcase the sonic design. Register here.
When: October 3-4
Where: Inspiration Furniture, 1275 W.6th Ave.
5. Home from Afar
Be transported to exotic locales through rich tapestries and rugs at this micro-event hosted by three Vancouver Design companies. Home from Afar is a collaboration between Salari Fine Carpet Collections, Umbra & Lux, and Henry Sun Studio. Register here.
When: October 2
Where: Salari Fine Carpets, 285 E. 1st Ave.
Refer to the map below for all IDS Vancouver 2020 micro-events happening around town this October: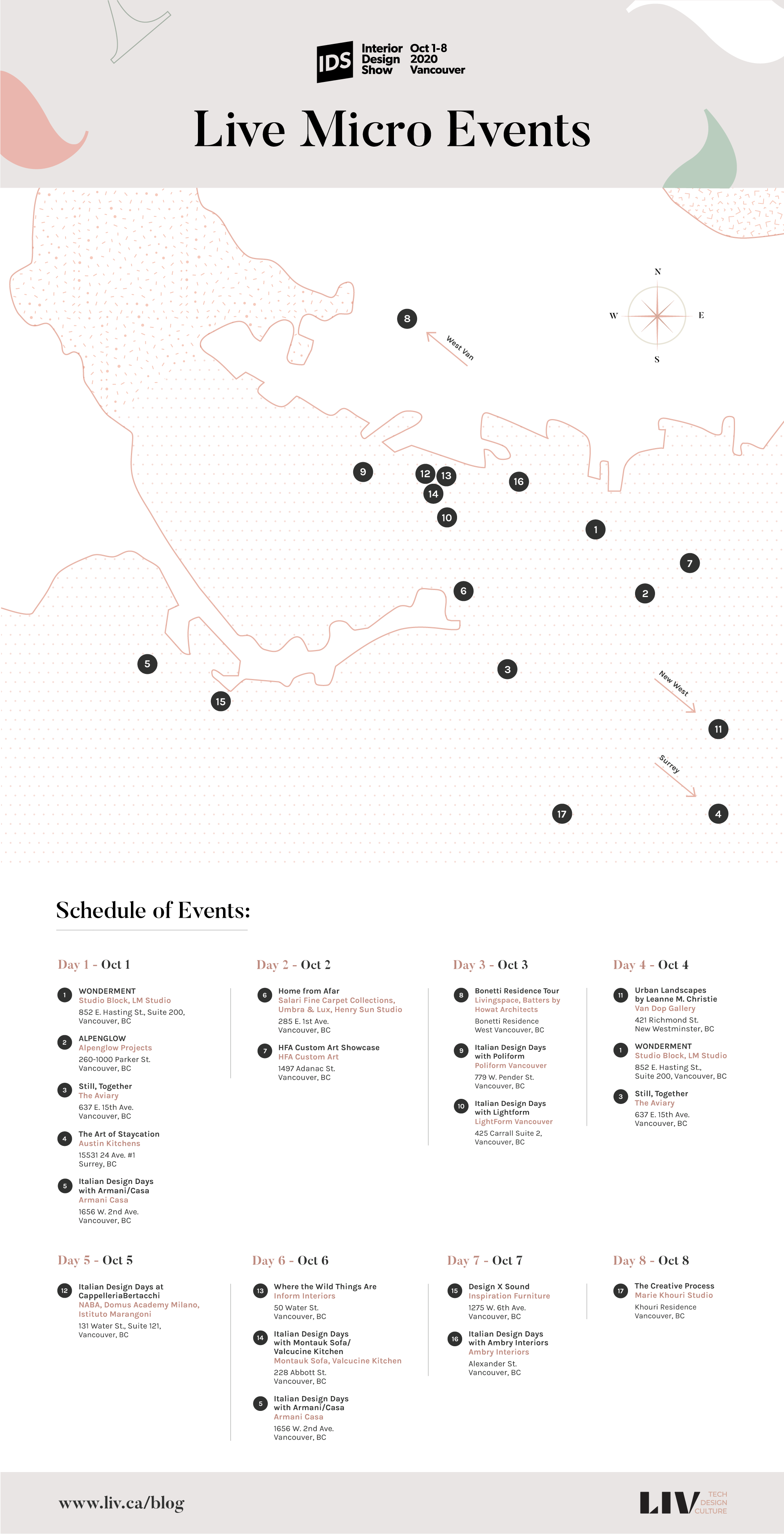 Virtual Talks:
6. What Is a Home? How Design Can Facilitate Community and Familial Relations through Our Basic Need for Shelter.
Speakers Ross Bonetti, Owner of Livingspace, Martha Sturdy, Owner of Martha Sturdy and Gaile Guevara, Founder & Creative Director of Gaile Guevara Studio come together to discuss the idea of "home" touching on our basic need for shelter vs. homeownership as an investment.
Panellists will discuss how these last few months, spending a significant amount of time in our homes, may have shifted their approach to design in their discipline. Register here.
When: October 1
7. The One Image
Speaker Ema Peter, the founder of Ema Peter Photography, is a local photographer with whom LIV regularly collaborates. In her talk, Ema will share some tips on how your imagery can stand out, what the viewer expects and how to evoke an emotional response. Register here.
When: October 2
8. Nature the Master Creator: Using the Science of Nature to Create Magical, Memorable, and Sustainable Experiences
Speaker Natasha Hussein, Creator of Super Imaginary explores and discusses the biology behind natural systems and how they can be used to design objects and experiences that are sensual and visceral, yet do no harm. Register here.
When: October 2
9. Design and Ecological Materials
Speaker Nina Edwards Anker, Principal & Founder of Nea Studio, is an architect, professor and industrial designer. She will discuss her company's philosophy of experimentation, research, and natural materiality. Utilizing environmental technologies and principles, Nina will present how research helps underline the experience of holistic architecture. Register here.
When: October 5
10. Sustainability, Transparency and Empathy: The Direction of Scandinavian Design
Speaker Susanna Bjorklund, Founder & CEO of ENNEtool, explores how good can come out of this pandemic moment as we stop and reflect on what is truly meaningful. Susanna Bjorklund has garnered ideas about where the future of design is headed and will present her ideas with a lens of visual and societal trends. Register here.
When: October 7
IDS X LIV Design
IDS Vancouver's role in galvanizing and showcasing the best of Western Canadian design cannot be understated. Each year, the design community is brought together to share their creativity, processes and product with peers and the community as a whole, fostering a deeper understanding of the multi-faceted elements of design. Like other design weeks around the world, the 2020 edition required some creative thinking and a pivot to a hybrid-digital format, to ensure the show could still go on. Thankfully, there is no shortage of innovators in the community.
Over the years, LIV Design has participated in unique and engaging ways, creating immersive experiences in the form of an award-winning IDIBC booth (2018), VIP Lounge (2019) and this year, as part of the new IDS 360° experience. 
Here's a look down memory lane from previous Vancouver Interior Design Shows:
2018 IDS Vancouver – IDIBC Booth
A thoughtfully and beautifully designed space intended to educate the general public about the interior design profession, highlighting industry achievements and, finally, serving as an inviting, gathering space for industry and trade show events. Featuring timeless, elegant designs in shades of terracotta, pink, and deep teal and punctuated by a daring, floral wall covering, we ensured IDIBC's booth left a lasting impression on each and every visitor.
2019 IDS Vancouver – VIP Lounge
Inspired by the IDS 2019 theme of Design DNA, the LIV Design team employed timeless design elements and principles such as line, shape, form, colour and pattern and exquisite interior materials and finishes, to create a regal and relaxing VIP experience for IDS Vancouver 2019 VIP Lounge guests.
2020 IDS Vancouver – IDS 360° Featured Contributor
IDS 360 a virtual series created by Interior Design Show Vancouver highlighting handpicked, diverse brands and their experiences in a post-pandemic design world. We were honoured to be featured in this digital showcase. We discussed our approach to design, specifically, Visually Led Design and how are studio also incorporates branding, animation, illustration and CG artistry in our design practice.
Impressively, IDS Vancouver 2020, has responded to the challenging climate with an innovative new format which is sure to energize and inspire the design community. We encourage our readers to explore this premier event safely, in person, or digitally from home.
As IDS 2020 is just getting started, we'll be sharing more on what's happening across the design community in the coming days – follow us on Instagram to stay up-to-date. 
---
Stay connected with LIV Design Studio – Subscribe to our newsletter here.