As an active member of the Pacific Northwest's creative community, LIV Design Studio revels in any opportunity to collaborate with artists and makers who define design excellence. Most recently, our team had the privilege of working with furniture manufacturer Lock & Mortice to design a series of custom pieces for a sales presentation centre in Seattle, Washington.
Our designers worked with the team at Lock & Mortice to create three pieces:
The Signing Table
The VIP Table
The Tabletop Accessory
We spoke to them about this project, their process and their ethos as well as their vision for the future of design.
About Lock & Mortice
This studio's reverence for nature and for the beauty of wood, coupled with a commitment to excellence in all its forms, has put them at the forefront of the furniture design industry. Their work for residential, as well as commercial clients, tells a continuous story of minimalist utilitarianism: each piece, simple and clean, yet intentionally designed to be functional and dynamic in it's surroundings.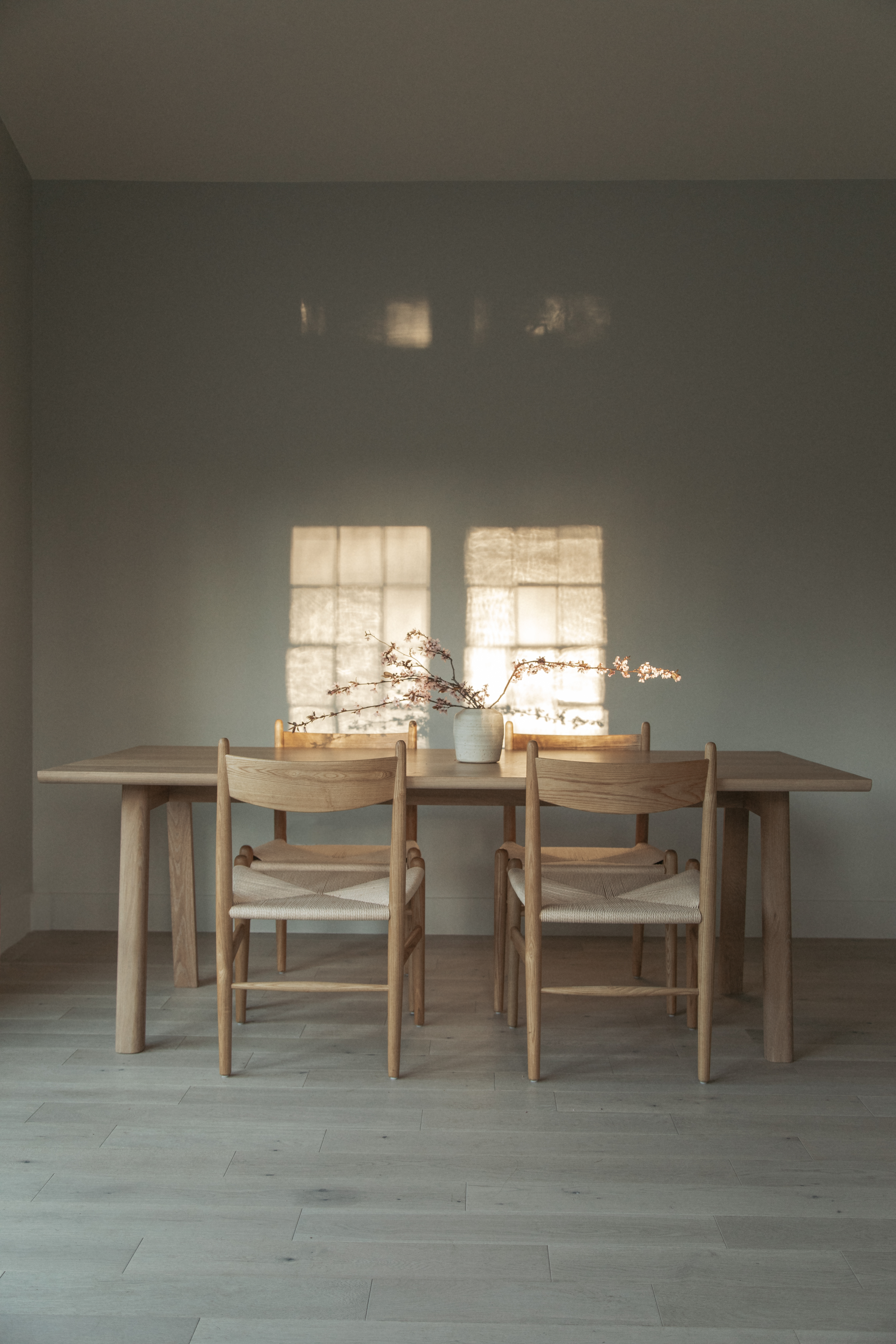 How did Lock & Mortice come about?  
At the start, we were designers in search of a medium. We dabbled in a variety of materials, designing stages, sets, and the odd table here and there. It didn't take long for solid wood to become our medium of choice. Our admiration for this natural material increased, as did our preference for working with it. 
While we continued to grow with this new-found focus, we realized that there was a gap in the furniture market that could be filled if design and manufacturing met and were more closely linked, informing each other directly. Being deeply connected to the manufacturing process ultimately changed the way we designed products. 
What describes Lock & Mortice?
We are a multi-disciplinary studio and furniture manufacturer. We design, engineer, and create solid wood pieces for residences and commercial spaces. Our obsessively minimalist aesthetic requires the highest grade natural woods and exacting precision to achieve pieces that are quietly beautiful in their simplicity and perfect in execution and quality. 
We understand spaces and consider the efficiencies and constraints of interior design as well as manufacturing when we conceive and develop our products. We collaborate with a wide variety of designers, architects, and organizations looking to create amazing spaces. 
Our goal is to be a recognized brand for solid wood furniture serving interior designers throughout the Pacific Northwest. We believe in creating honest furniture that is conscious of the environmental impact of manufacturing and shipping products around the world.
How would you describe Lock & Mortice's approach/methodology?  
Deconstruction—remove anything that doesn't add to the piece. We escape nostalgia and design pieces in a way that's heavily driven by functionality and process. 
We believe in enduring designs that aren't driven by trends and love beautiful, simple furniture that ages gracefully. 

Lock & Mortice
How do you balance form & function in your designs?  
Typically, the function takes precedence with our furniture, meaning it often directs the form.  
For the LIV Design team, designing this collection meant considering the form and function not just of the pieces, but also of the spaces for which they were intended. As with any interior design project, each component must work harmoniosly together for a seamless effect. The tables and accessories created with Lock & Mortice for this particular project had to provide a feeling of serenity, but also of gravitas, which gave direction for both the form and the function.
Where do you look for design inspiration?  
We draw a lot of inspiration from brutalist architecture, nature, and antiques. As a designer, sometimes the strangest, most unexpected things can inspire you, often it is the smallest details that are overlooked, but that we notice. Our eyes are always looking towards things that inspire, which is why our pieces seek to translate inspiration from the most unassuming places to become beloved pieces that quietly inspire. 
On Collaboration
Using mood boards and inspiration images as a starting point, the LIV Design team provided the Lock & Mortice team with an initial concept of the Signing Tables and the VIP Table. Through further conversations and creative discussion, the teams moved through the design process of ideation, selecting finishes, and finalizing concepts.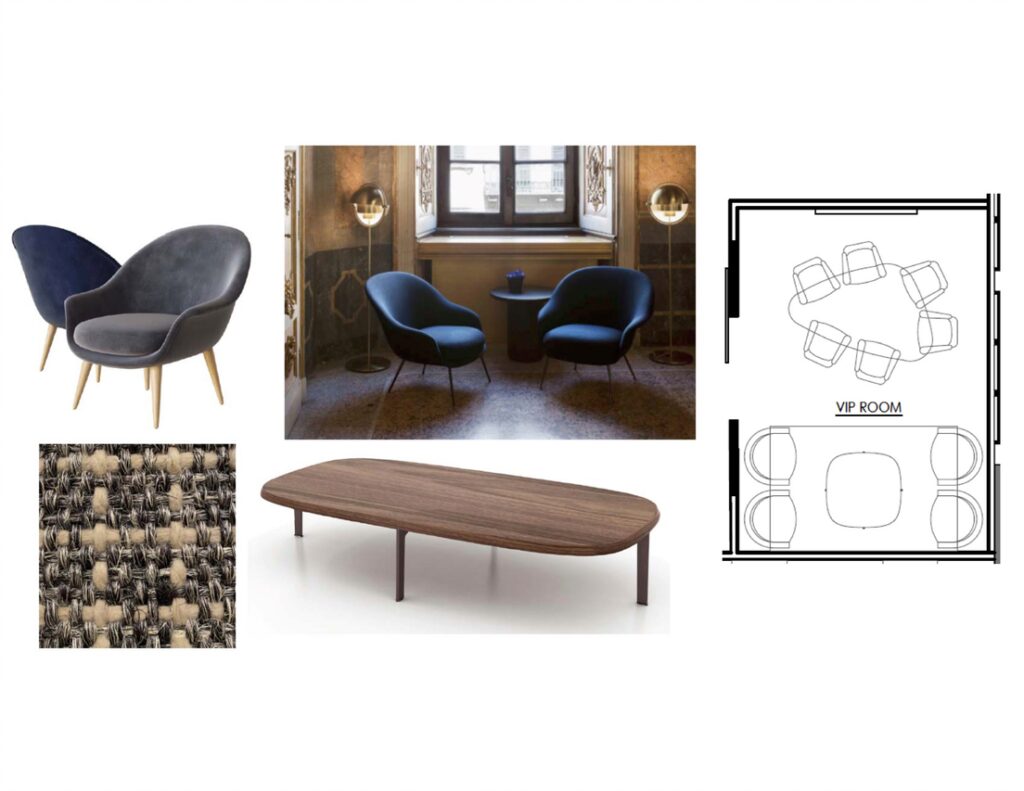 Can you speak a bit about the design of the Signing Table & how that compares to the VIP Table?   
We started with relatively simple criteria: a table that functions well as a signing table. We wanted something substantial and anchored, so we started playing around with some complex, strong joints. Drawing from Japanese joinery techniques, we designed a simple-looking but, in reality, complex joint. As always, our goal was to display the natural material. Walnut is such a beautiful wood, so the end grain detail of the leg protruding through the top while serving a purpose is a distinguishing feature that was born out of functional joint.  
The VIP table was designed by LIV Designer Rochelle Morran with the Lock & Mortice team for a meeting and sales room where clients would close on their purchases. The table would provide comfortable seating and adequate circulation in the room. In contrast with the uniform nature of the Signing Tables, Rochelle wanted the VIP table and the entire space to feel more calm and natural for the client. Eschewing the traditional rectangle or oval shapes in favour of a more organic form conveys a more Zen, relaxed ambiance.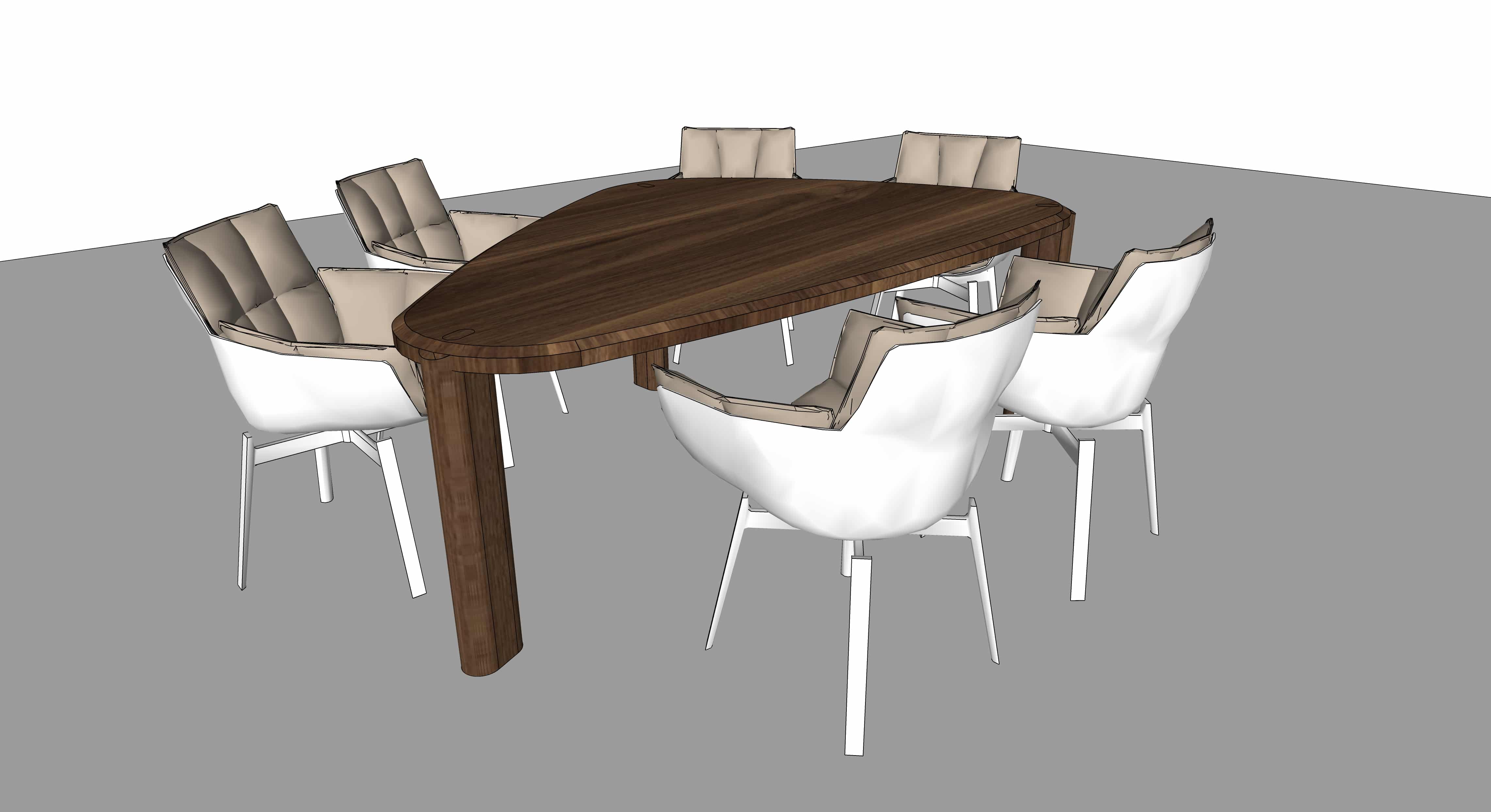 Can you share more on the materials used for the tables and tabletop accessory? 
Yes, we used American black walnut, which is considered one of the most beautiful woods for its rich chocolate brown colour and lively grain. It's an exceptional closed-grained wood that ages beautifully.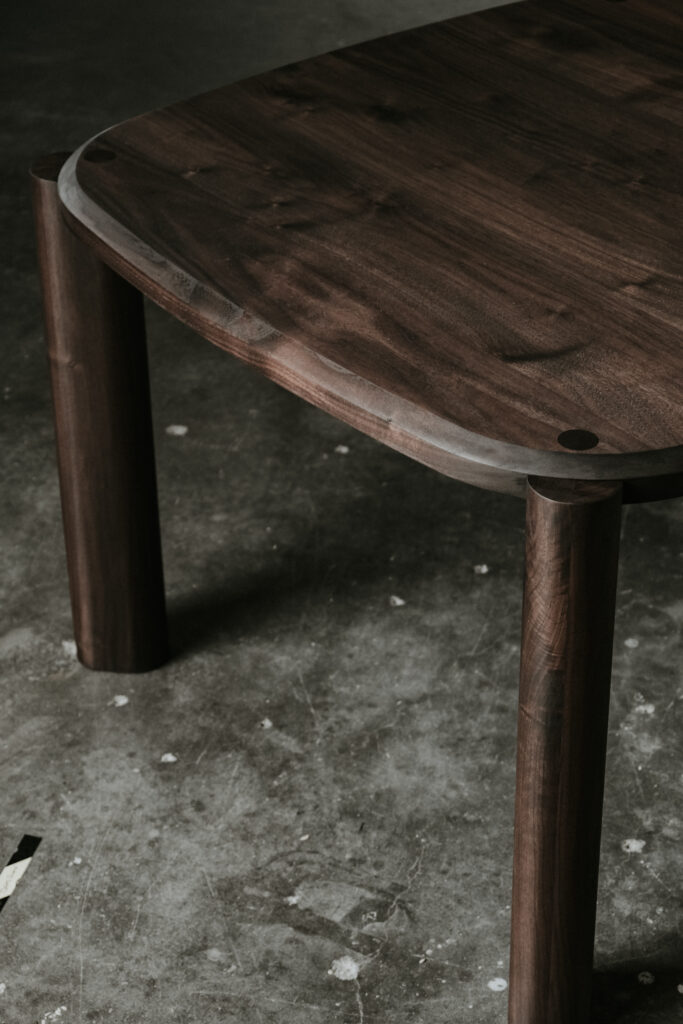 The custom stationary holders are intended to keep all required stationary clean and organized to complement the cohesive, tidy feel of the entire space – not messy or chaotic. As part of the ideation process, Rochelle created a 3D model of the accessory to formulate component uses and dimensions, and communicate the direction of the design.
How did the design of the tabletop accessory evolve to its final state?  
Picking up cues from the table details, we wanted these accessories to speak the same language and read as a collection. The beveled edge and recesses are reminiscent of the top-to-leg connection of the tables while the actual functional storage components were driven by the practical size restraints of the various stationery pieces.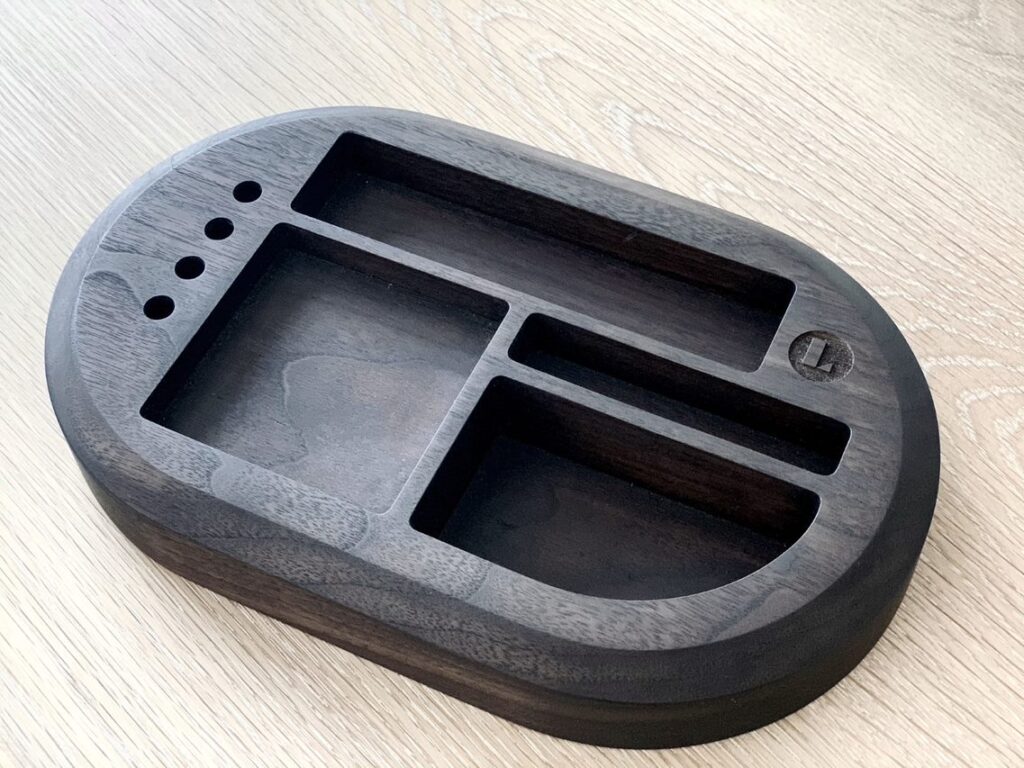 Final Thoughts
How has collaboration changed for you this year?  
The change of pace brought on by the pandemic has made us more collaborative internally. We have an abundance of ideas, so isolation worked in our favour and allowed us to come up with creative ideas and ways to bring them to interior designers. The transition to video and phone calls has been an adjustment, but we are excited for the year ahead and to discover how we can continue to serve the Vancouver design community. 
What does Lock & Mortice have in store for the next year?   
We aim to focus on our collection of standard wood furniture products. It brings us great satisfaction to bring custom pieces to life, but we also want to make design more accessible and approachable through our product line.  
Accessories and collaborations will continue to be an area where we can offer designers more value. We recently became a stockist for Henry Wilson, and have launched a collaboration of accessories (a bowl and two hooks) with Timothy D. Blacksmith Co., a collaboration we would like to expand. 
---
In Vancouver's small but diverse design community, our ultimate strength is the passion of our artists and the ease of our ability to collaborate. LIV Design Studio is proud to uplift our fellow designers and strive for greatness in each new endeavour.