A Brief History
Conservatories originated in England in the 16th century amongst the royal and landowning classes. Enamoured with the heady sights and scents of Mediterranean adventures, the wealthy sought to recreate them in the colder English climes, housing collectible plant species brought back during the Age of Exploration.
Typically an extension of a primary residence, the original conservatory structures of the 17th and 18th centuries were known as Orangeries. These were constructed of wood, brick or stone with tall vertical windows on the south walls. The 19th century was the golden age of greenhouse conservatory building, primarily in England. These conservatories were the product of English love of gardening and exotic fauna, made more ubiquitous with new technology in glass and indoor heating.
The conservatories of the 1800's featured glass walls and ceilings, often domed to provide more natural light. In private residences of the royals and upper classes, they served a dual purpose. First, as a greenhouse for cultivating citrus fruits and other more fragile, herbaceous plant life from exotic places. Towards the end of the century, also as an elegant entertaining area where one could connect to their natural surroundings.
Many of the magnificent public conservatories are also the result of this era. Eventually, they expanded their reach beyond the aristocracy into the public life of the great European cities of the time – such as London, Paris, and Brussels. Glorious public conservatories of glass and iron were erected, offering the general public glimpses of exotic species of plant life, just as a broader interest in natural history was taking hold and Darwin's ideas and findings were circulating the globe. 
Their designs were decorative and innovative. As they grew in size, sophistication and popularity, reaching a peak in the 19th century, they served as impressive examples of engineering ingenuity as well as architectural novelty.
Palm House at the Royal Botanic Gardens, Kew, completed in 1848, was one of the first greenhouses to be built on a massive scale. Spanning 110.5m in length, with 16,000 panes of glass. This spectacle was designed by Richard Turner, who had previously built Palm House at Belfast Botanic Gardens. The Palm House in Belfast is one of the earliest examples of curvilinear cast iron glasshouses in the world.
To this day, some of the most recognizable greenhouse conservatories are reproductions of glorious 19th-century structures, re-imagined and constructed using modern, energy-efficient materials. Their inherent commitment to form and function, combined with a growing interest in biophilic design, is driving their revival. They epitomize these principles – serving as beautiful spaces where plants are nurtured and protected, and where people can entertain, relax or dine in close proximity to nature.
A Contemporary Take
Modern interpretations of historical conservatories are simply contemporary twists on their classical counterparts. Using more durable and sustainable materials, architects are able to devise more intricate and challenging forms that inspire engineering and design innovation. Innovation is not just about designing a more sustainable conservatory, but using the history of conservatory design to influence modern designers.
This re-imagining of conservatory design in turn is leading designers and architects to rethink the way conservatories are used and connecting them to a new focus on wellness in defiance of our technological age. Modern public conservatories are akin to a tranquil oasis within bustling cities of the world, such as Singapore, Seattle, London, Japan, and others. More frequently, they are also connected or affiliated with institutions, like airports and museums, as a place for rest and restoration.
Here we take a look at some modern examples of conservatory design – from public to residential examples.
Puzzle Pavilion, Mexico City
Designed by Mexican architect Gerardo Broissin, this brilliant pavilion, called Egaligilo, is located in Mexico City's lush Chapultepec Forest. Created for 2019's Design Week Mexico, the outside walls are made of concrete panels pieced together like a jigsaw puzzle and perforated to allow sunshine and rain to permeate.
Blending perfectly with its hilly surroundings, this low profile conservatory structure is punctuated by a circular opening in its wall that reveals a garden of lush bushes and plant life inside. The puzzle-like walls of the pavilion also feature protruding semi-spheres patterned with small white circles. The overall effect is both alluring and futuristic.
Hiroshi Senju Museum, Karuizawa
Designed by Tokyo-based, 2010 Pritzker Prize winner, Ryue Nishizawa, the Hiroshi Senju Museum houses 100 magnificent, large scale works of waterfall-focused art by Hiroshi Senju, perfectly showcased by the conservatory-influenced design of the museum space.
The museum design amplifies the natural elements of the site by using the surroundings as a backdrop to the art on display thanks to floor to ceiling glass walls throughout the space. The floor plan follows the natural contours of the land, rising and dipping throughout the gallery and capitalizes on natural light to accentuate the artwork. Local trees, bushes, and ground cover are visible through the glass walls enhancing the museum experience in a beautiful, biophilic manner.
Amazon Spheres, Seattle
Perhaps one of the most celebrated examples of contemporary, conservatory design, the Seattle Spheres, are three spherical examples that comprise part of Amazon's Seattle headquarters campus.
Designed by NBBJ architects together with landscape firm Site Workshop, 3-4 story high domes are covered in pentagonal hexecontahedron panels and house an employee lounge, workspace and retail stores, as well as 40,000 plants from over 50 countries. Recognizing that exposure to nature is proven to reduce stress levels and help people think more creatively, The Spheres were designed with the welfare of Amazon employees in mind and have become the most iconic part of the headquarter complex.
The plant life is divided into the old world and new world groupings and includes 40 to 50 trees. The largest is a 55-foot (17 m) fig tree, lifted into the spheres by crane in 2017.
Gardens by the Bay, Singapore
Designed by Grant Associates Landscape Architects and Wilkinson Eyre Architects, Singapore's Gardens by the Bay are part of Singapore's continued development of the Marine Bay area. They feature a Flower Dome that houses a cool dry biome and a Cloud Forest Dome that houses a cool moist biome. Beneath these two shell-shaped conservatories are themed horticulture gardens, heritage gardens, and hundreds of thousands of plants from around the world.
"Our brief for Gardens by the Bay was to create the most amazing tropical gardens in the world, incorporating cutting edge environmental design and sustainable development principles. We wanted to capture people's relationship with nature and use innovative technology to create rich lifestyle, educational and recreational experiences for both local residents of Singapore and visitors from around the world."

— Andrew Grant, Director, Grant Associates
RECOMMENDED >> Green Spaces: Immersive Plant Design
Shinjuku Gyoen National Garden Greenhouse, Tokyo
Originally constructed during the 19th-century Conservatory boon, the Shinjuku Greenhouse was rebuilt in 2012 and is situated amidst the 144 acres that comprise the Shinjuku Gyoen National Gardens. An environmental conservatory, it is dedicated to preserving and displaying endangered tropical and sub-tropical species. The original greenhouse, along with the rest of Shinjuku Gyoen, was destroyed during the air raids of World War II. But by 1958, the greenhouse had been rebuilt and would undergo several renovations before the latest 2012 overhaul.
Casa OM1, Guadalajara
Designed by Andrés Escobar of AE Arquitectos, this contemporary, private home exemplifies biophilic design. Created so its owners can interact with nature organically, throughout their living space, the structure blends elegantly with the landscape to offer an immersive, natural experience. From the floor to ceiling glass, to the open-air courtyard and patios, the exterior blends seamlessly with the interiors.
The first patio is visible along the entrance stairway, which transports visitors from the noisy streets of Guadalajara into the tranquillity of the home. The second patio or courtyard, lush and abundant, figures more prominently in the center of the house, unifying the ground floor with the second floor.
The living room, dining room, and kitchen spaces connect with the backyard – also filled with vegetation, a deck, and a pool.
Marylebone Square, London
The grandeur of the 19th-century conservatories serves as inspiration for the central courtyard at Concord's Marylebone Square – itself a contemporary, architectural interpretation of the area's 19th century Georgian Architecture. The airy atrium garden is lined with tall, silver birch trees while an elliptical lily pond reflects the sky and the building's breezeways, creating a sense of serenity and escape from London's buzz. The immediacy of nature right outside each home helps residents decompress and transition seamlessly to their homes.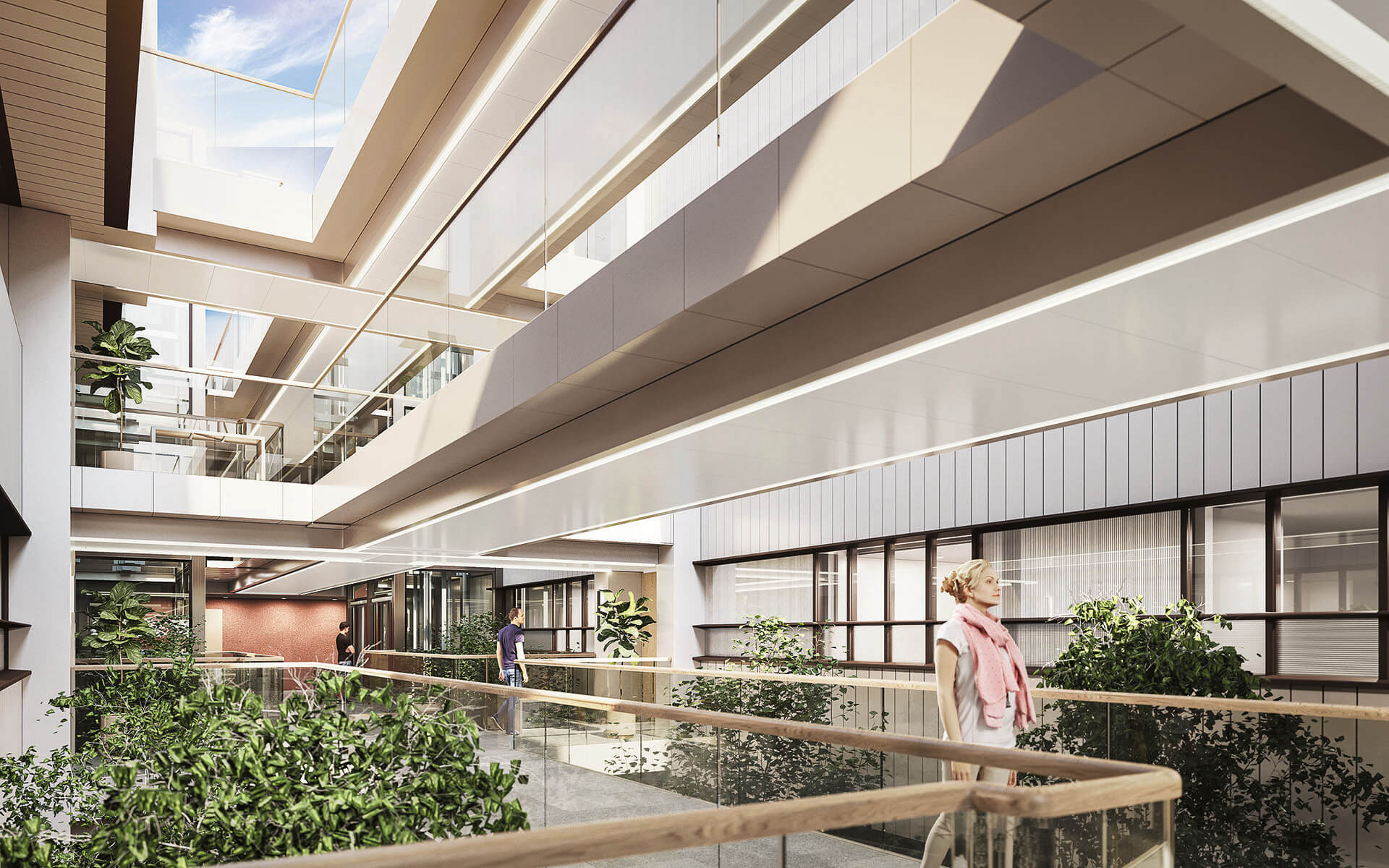 Looking Ahead
Looking ahead, we see the growing interest and influence of conservatory design continuing. Especially now as we navigate these uncertain times, creating spaces that allow us to connect with nature, cultivate gardens, and leverage the beauty that surrounds us, seems like time well spent.