LIV Lightly
Let the best gift we give be the tiny footprint we leave behind in the snow.
Typically the holidays are a time of excess, but they don't have to be. We would like to challenge our readers to, at the very least, pare back on waste, buy less, shop more consciously and travel more sustainably. 
Below we've provided some simple tips for:
decorating sustainably;
choosing a tree that is green in more ways than one; and, of course,
gift-giving.
1. Décor
At LIV, we design for a living. We love every aspect of designing a space to suit a mood. At Christmas, we get to rethink our homes, decorating them elegantly and festively to reflect the best of the season.
To do so sustainably can be a challenge given all the beautiful holiday chachkas tempting us at every turn.  But be disciplined. Check yourself. Do you really need new decorations? Can you repurpose what you already have?
Less is More
At LIV we very much value this design aesthetic and believe, fundamentally, that a light decorating touch can be the most effective.  Keep your decorations simple.
Invest in quality
If you do buy decorative items, consider their quality to ensure they endure.  Choose items that you will treasure every year when you pull them from storage.
Decorate with natural materials
Opt for natural wreaths, seasonal berry stems, garlands of everygreens like pine, cedar, magnolia or holly rather than purchasing store-bought plastic knick knacks. Simply add an eucalyptus or olive branch to a vase or use what you find in your back yard like pine cones and branches to bring the outdoors in. Greenery is a simple way to incorporate nature into our indoor spaces and remind us of our connection to the natural world.
And once the holiday season is over, you can compost all these items rather than store them.
Candles and Lights
The holiday season is made more magical by candles and strings of lights.  Choose LED lighting and use a timer to prevent excess energy use.
When choosing candles, choose beeswax or traceable soy wax candles for the cleanest burn. Do your best away to stay away from burning paraffin candles; they are made from a petroleum by-product, harm the air quality of your home, are non-sustainable and resource-heavy to produce. Read your candle labels carefully and recycle the container.
2. Tree
Living in British Columbia, we are fortunate to have an abundance of trees available to us – Noble, Douglas and Fraser firs, Hemlocks and many more.   Most have all been purposely cultivated organically at tree farms in BC and they can be chipped and recycled for mulch. Buying a real tree supports family-owned businesses and often helps charities and schools raise money for worthy causes.  You could also consider a live potted tree that can eventually be planted outside. In Vancouver, you can even rent a potted Christmas tree, keep it alive and then return it after the season is over!
However, if you live in less verdant areas of the world, consider the fossil fuels burned to transport live Christmas trees to your area. In cases like this (and allergies), the most green decision might be to purchase an artificial tree that you will use year over year or a house plant that will live beyond the holiday season and add fashionable greenery to your living space.  Even better, look for a second hand one – the second hand tree will have off-gassed most of its VOCs already.
3. Gifts
Gifts must always be given with the recipient in mind and now with earth in mind as well. The simplest way to reduce at holiday season is to simply buy less. However, the season is a time to express gratitude and appreciation and to remind us all of what and who is truly important. Here are some ways to help you recognize the important people in your lives more sustainably.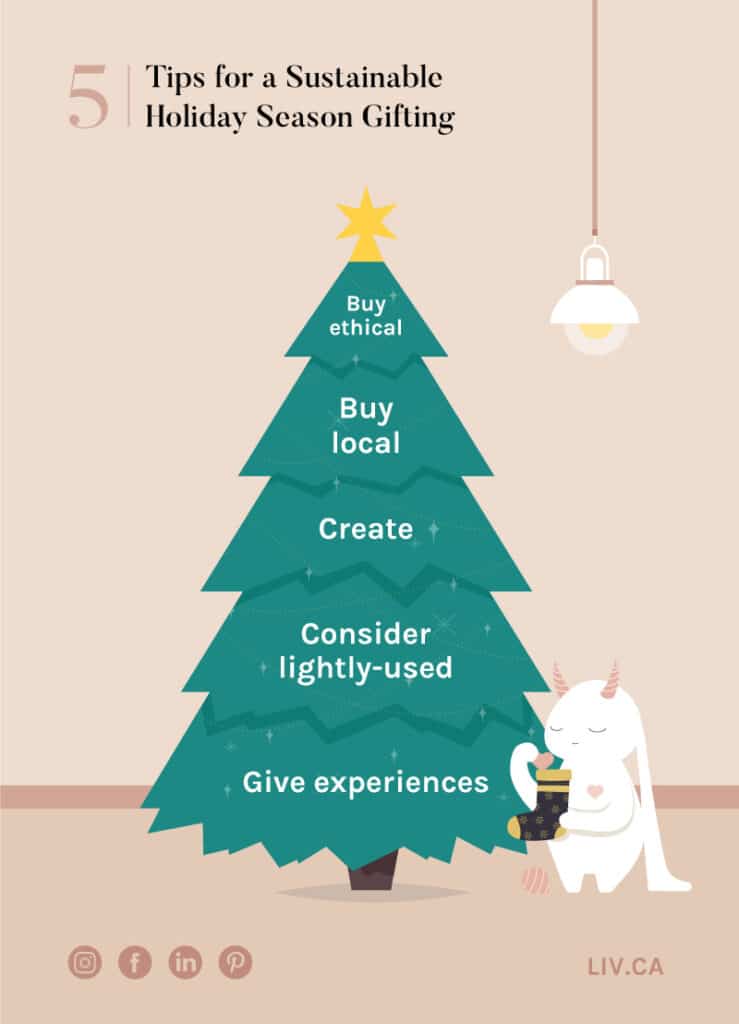 LIV's tips for sustainable gift-giving:
Gift Wrapping Sustainably
Lastly, when you wrap, consider using the Furoshiki method using a cloth or scarf eliminating the need for wrapping paper and plastic tape.  
Or, if you are still committed to paper:
Use recycled/recyclable product, brown craft paper
Repurpose newspaper or magazines
Challenge yourself to use 2-3 pieces of tape only.
If you can't resist buying a roll, choose matte vs. shiny paper as it is recyclable while shiny paper is usually not.
Tie it all up using jute or twine, a simple branch or berry twig and add one of LIV's custom-designed gift tags to complete the present.
Ultimately, LIV believes the best gift you can give is time and presence – Our design team wishes this for you and yours.

---
Check out our shop for limited edition, locally designed products.