For many city dwellers, apartment living is the norm. This means optimizing a small space for functionality and livability. The kitchen, especially, can be a challenge. Storage and counter space are important and require a deft design hand to deliver a kitchen that is both beautiful and functional. The design team at LIV has extensive experience designing for multi-residential buildings with compact kitchen areas. See below for 8 different design strategies on how the LIV team marries aesthetics with functionality when designing small-space kitchens.
1. Eliminating Hardware
This makes spaces look more streamlined and sleek. Premium soft-close hardware of superior quality and durability is a key feature in LIV designs as we want to make sure all aspects of our design operate as beautifully as it looks. The minimalist look achieved by the latest motion technologies for doors, pull-outs and lift systems is not only beautiful, but highly functional and convenient – a simple nudge provides access to a drawer and a cupboard. Especially when a kitchen work area is already compact, the last thing anyone needs is for protruding hardware to catch onto apron or clothing.
2. Harnessing natural light whenever possible
Whenever possible, incorporating a natural light source into the kitchen design will immediately brighten and expand the space. Skylights, windows and transparent doors will make any kitchen more inviting.
In many smaller urban kitchen spaces, however, natural light may be less easy to come by. In these situations, the lighting chosen will be even more important (see #3) as well as cabinet colour choices – lighter colours, like white or light cabinetry, is usually the best option in this type of scenario (see #4).
3. Choosing sleek lighting solutions
In addition to general recessed downlight, under-cabinet lighting is best to provide extra task lighting for cooking or mood lighting for socializing with friends. Incandescent lighting underneath upper cabinets and spotlighting above cabinetry are great options. For the area above an island or eating area, installing pendant lights with dimmers is great for warmth and/or drama, while simple lighting like linear fixtures help to keep sight-lines clean. Alternatively, matching full linear ceiling mounts and/or fully recessed fixtures to the ceiling can help them disappear and visually expand the space.
4. Monochromatic Colour Palette
Black and white are always what springs to mind first when looking to achieve a sleek, minimalist kitchen. However, kitchens don't have to be limited to these colours. Navy, grey, and sage green are also great options to add a bit of colour into your home. Experimenting with texture and subtle colour variations adds warmth and texture to the kitchen while adhering to a monochromatic theme maximizes the appearance of the space. Once complete, light fixtures, plants and other accessories are often used to soften stark, minimalist edges.
5. Using integrated appliances
Panelled or integrated appliances will give kitchens a sleeker, more expansive look, and provide more counter space if appliances are incorporated well within the design.
With advances and more custom options for appliances and cabinetry, there is no reason for appliances sticking out beyond the depth of the counter or cabinetry. Taller or wider fridges are now available in standard counter depths to integrate seamlessly into kitchen. Refrigerated drawers and dishwasher drawers offer an alternative to the standard upright versions of these appliances. Slim hoods that turn on automatically are also a great option and, of course, cooktop and wall oven combinations are a great way to keep the counter more streamlined for a more contemporary look.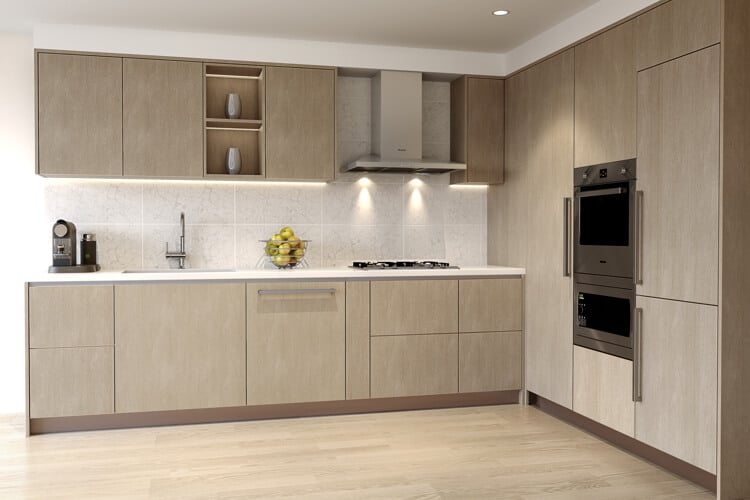 Note: European designers and manufacturers design for smaller spaces so LIV recommends investing in appliances from their high quality, right-sized product lines.
6. Reflective Surfaces
Mirrored backsplashes are often chosen when trying to expand a small space, but tall backsplashes in a heavily veined marble large format tile like arabascatto or calacatta oro are also great options that we try to integrate in LIV projects as it is a great alternative to the usual mirrored backsplashes. This creates the illusion that the ceiling is higher.
Another great way to visually expand a space is the incorporation of glass. A glass backsplash, pass-through window or cabinet doors will lighten and enlarge a compact kitchen.
Like mirrors, the reflective quality of high gloss cabinets creates the illusion of space. And though white high gloss is a favourite, any colour in a high gloss finish is reflective so, for example, a high gloss dark cabinet won't look as dark as a dark matte cabinet. Another added benefit of high gloss cabinetry is the ease of keeping them clean. Though fingerprints may be more noticeable, the gloss surface is easy to wipe.
7. Clever, concealed storage
The kitchen is one of the easiest places places in the home to get cluttered, therefore the need to incorporate as much storage as possible. Expanding cabinetry to the ceiling for added storage will visually expand the space vertically. Integrating a 'magic corner' cabinet with hidden lazy susan for additional storage in the corner well. Also, incorporating practical details like hidden towel bars and wooden utensil trays within drawers etc.
Counter space is so vital in small kitchens so keeping small appliance clutter – or any clutter – off countertops is an important consideration during the design process. We make every effort to incorporate cabinet space suitable for storing these appliances near prep areas, for example, underneath an island. This way, kitchen appliances are not taking up valuable real estate when they are not in use but are still easily accessible when needed.
A tall, pull-out pantry cupboard is a great storage feature, a feature we try to incorporate often, and can also house an appliance or two in addition to cereal boxes, cans and other food staples.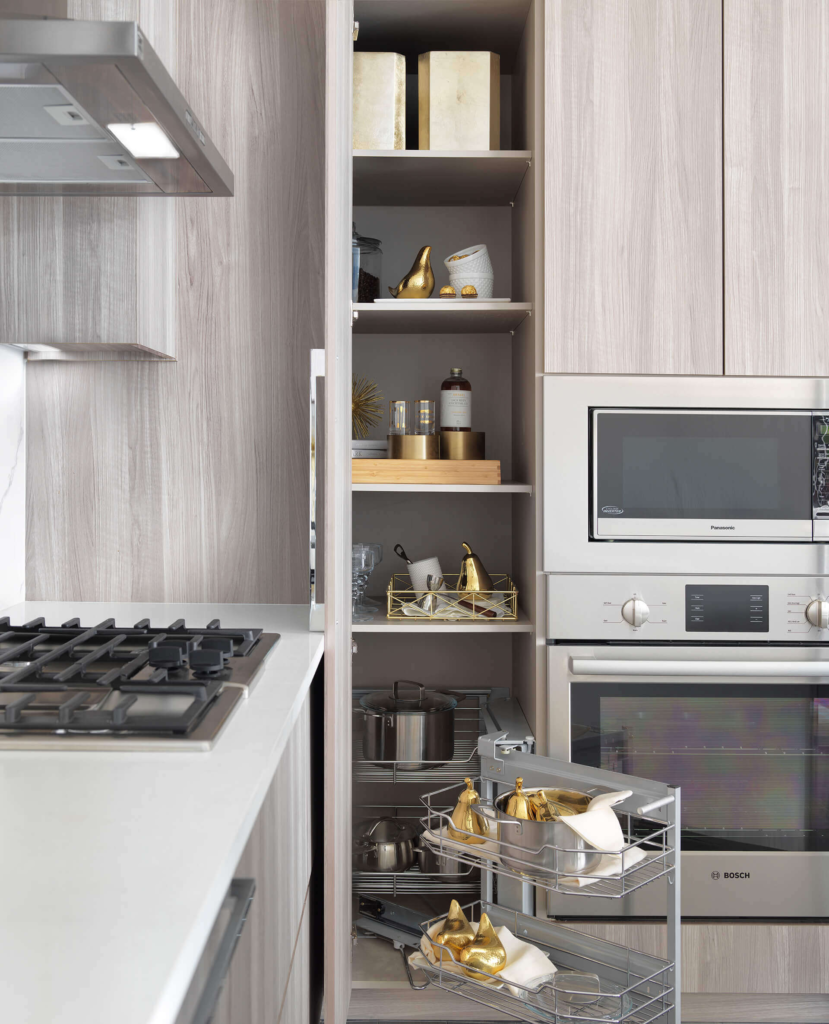 ---
A great kitchen experience for both novice and expert chefs is achievable in a small space so long as design is thoughtful and purposeful. The most important principle we keep in mind is the consideration of the user of the space and using the tools available to us to create a space that is not only welcoming, but practical.
---
For other small space design tips, see our article Small Space Design: Bathrooms.
Stay connected with us and subscribe to our blog here.
Cover image source: Unsplash