Bathrooms are typically one of the smallest rooms in the house but also one of the busiest. They offer designers the perfect opportunity, or challenge, to create a space that is both beautiful and functional.
However, effectively marrying form and function to make the most of a tight space requires a commitment to some key design principles. See below for some key small space design philosophies and strategies the LIV Design team implements when designing for a small bathroom.
Mirrors
Since we primp and preen in bathrooms, mirrors are essential. Besides staring back at us, they can also play a key role in expanding a space. Consider using mirrored panels along an entire wall instead of limiting their placement to the vanity, to give the illusion of a larger space.
Use of Light, Neutral Paint Colours
Many smaller bathrooms, like powder rooms, have no sources of natural light, or very limited light.
Choosing light, bright colours in a neutral shade help reflect available light to visually brighten and expand the room.

To add a punch of colour and personality, add some unique artwork. It will personalize the space and add a focal point.
Maximize Storage
In order for a small bathroom to be functional and appealing, it needs to be organized. To be organized, it needs to maximize storage. Many people think a pedestal sink is the only option for a small bathroom but this sacrifices key storage options. Instead, LIV recommends:
A custom vanity – however small, this will reduce visible clutter.

Installing a maximum height medicine cabinet/mirror combination that looks contemporary will draw the eye upward and create the illusion of higher ceilings.

Incorporating recessed niches in a small space. These can be built between wall studs and provide additional storage without creeping into the physical space. These are also important features for shower and bath facilities providing important surfaces to hold shampoo, soaps, and more.

Consider floating shelves. These elegant and functional additions work well above the toilet or on a wall neighbouring the sink. They are ideal for storing rolled up hand towels or for shelving daily toiletries.
Floating Cabinetry
The LIV Design team is a big fan of custom built-ins, especially ones that 'float'. Having a clear floor – bare of furniture legs – adds surprising space to a bathroom. It heightens the appearance of the ceilings and expands the feel of the entire space. Furthermore, building a vanity that extends wall-to-wall elongates the room and provides additional storage.
Alternatively, consider a round vanity. It can save you the extra corner space and the soft edges allow for easier movement in the small space.
In the same vein as floating cabinets, floating toilets also add the illusion of more space. The tank hides behind the wall and keeps the floor clear.
Materials
When the space is small, limiting the number of different materials used makes the space appear larger and more elegant. For example:
Use the same tiles on floors as you do in the shower or on the walls to create a seamless flow; too many materials in a small room looks choppy, creating a less soothing space.

Choose a larger tile format and limit the grout lines to achieve a cleaner look and trick the eye into seeing expanded space both horizontally and vertically.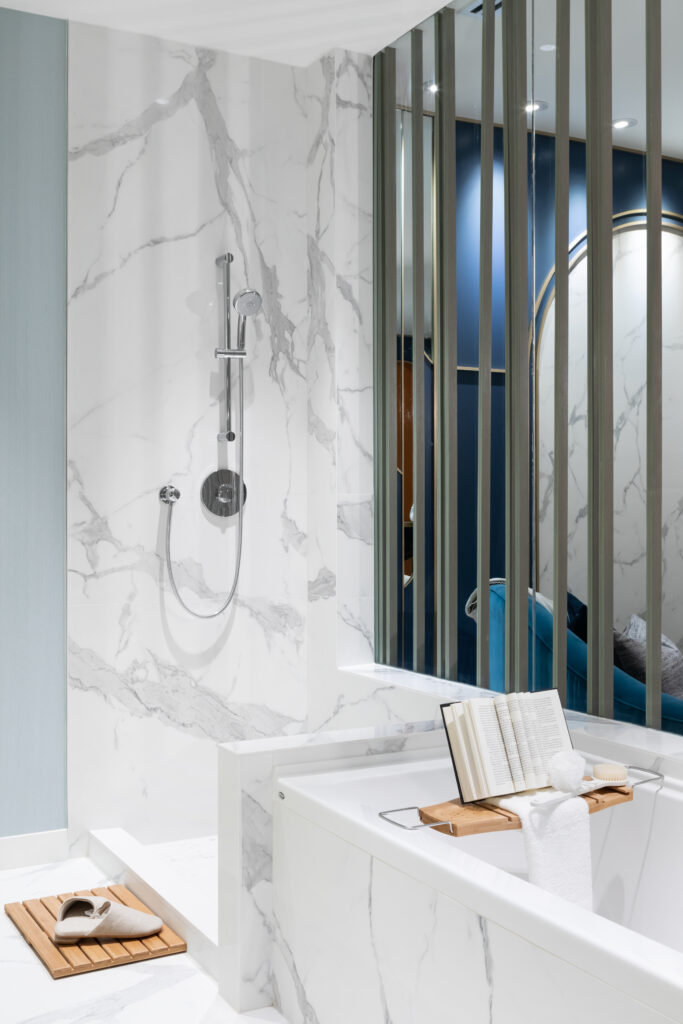 Lighting
Bathroom lighting is always important, but for smaller bathrooms that often have no natural light source, good lighting is even more crucial. Lighting plays one of three roles in a bathroom: ambient, task, or accent lighting. In a small space, single function lighting may be your best option so choose fixtures accordingly. Our team usually defaults to a few lighting strategies:
Soft overhead lighting that acts as the main source of illumination in a bathroom. Recessed lighting fixtures (pot lights) in the ceiling help with the illusion of a higher ceiling.

Under counter lighting and behind mirror lighting for a floating effect and to increase the sense of space. This performs both ambient and task roles.

Referencing the Illuminating Engineering Society (IES) Lighting Handbook to determine the wattage of lighting suited to your space. Generally speaking, 20 and 50 lumens (light output measure) per square foot is suitable for bathrooms. The brighter light should be designated to the task area (mirror) and softer lighting elsewhere.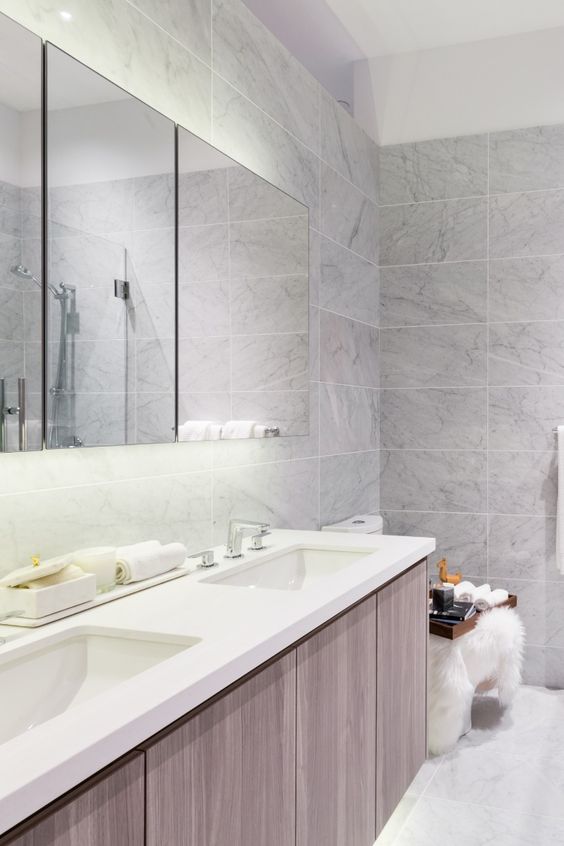 See our latest LIV Trending Pinterest board for Small Bathroom Design here.
---
For other LIV insights and inspiration, subscribe to the LIV Design Newsletter here.
Want to see more from LIV Design? Read some of our latest articles:
IDS Vancouver 2019 VIP Lounge (designed by LIV)