Candace Kaye is shaking things up in the design world. Her exuberant, bespoke textiles are featured in some of the world's most beautiful homes and commercial spaces. Educated at the Fashion Institute of Technology in New York City, Candace has honed her craft and grown her business focusing on creating intricate, magical custom prints translated onto wall papers, murals, rugs, textiles and more. 
LIV sat down with Candace to find out more about her creative process, her inspiration and her upcoming projects.
We know you attended FIT (Fashion Institute of Technology NYC) and studied Textile Design. Can you tell us more about your Maman Project you created in your last year of study?
Sure, it was the last semester of school in New York. Elisa, a friend and the co-owner of Maman Café, and I would talk for hours about my dreams in the textile industry. My vision at the time was to transform the textile industry. I wanted to take a product like wallpaper and change the way people related to it in a space. Doing custom work was just a vague concept at the time. I got excited about the idea of creating prints that were truly authentic to the space. I felt that would spark conversation to a product like wallpaper that would otherwise be overlooked. Textile is a special detail – putting more attention into that detail has the power to transform a space and take it to the next level.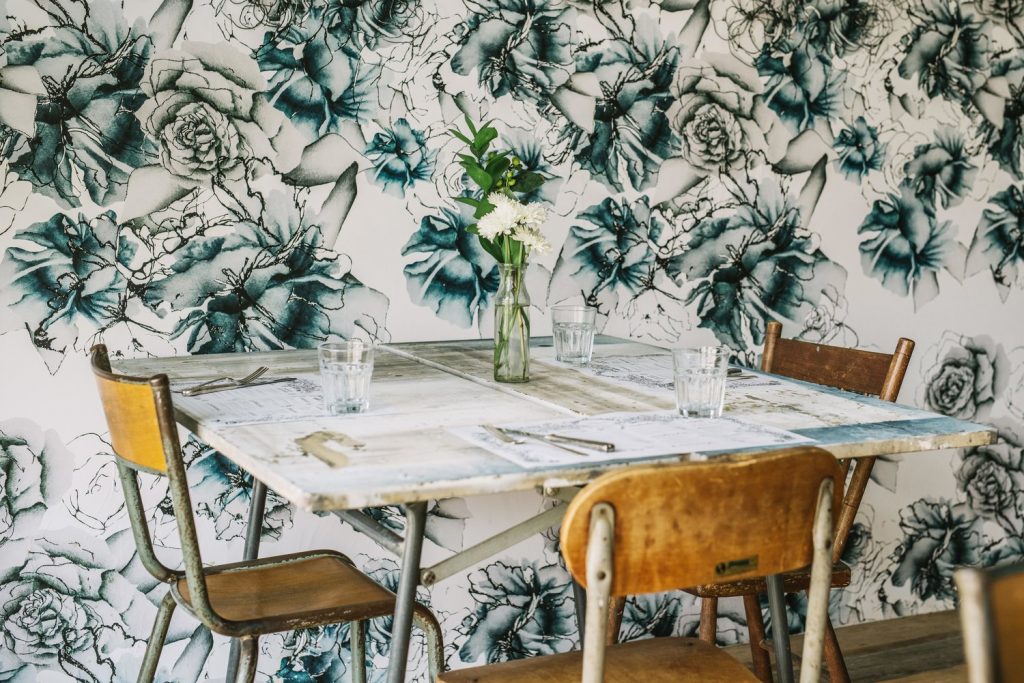 As our schooling was wrapping up, Elisa and Ben approached me with the brilliant idea to open a cafe in Soho called Maman. She wanted four custom prints that would be applied on the cups, the floors, the fabrics and the walls. Elisa was very particular about the vibe she wanted and that included South of France blues, bunnies and flowers. Once the doors of Maman opened, Soho could not get enough of the never-before-seen prints. The cafe became so widely successful they have since opened six more  locations around New York City and Toronto. 
Tell us about some of your favourite projects?
It's hard to pick a favourite, so I'll just speak about my recent projects. Planta Queen opened in April. This was a really fun project. Co-owner, Steven Salm, allowed me to push the boundaries and gave me full creative control to do so. It is a nice feeling to know your clients trust you at this level. We did three different bespoke murals in different areas of the restaurant, all with the same vibe.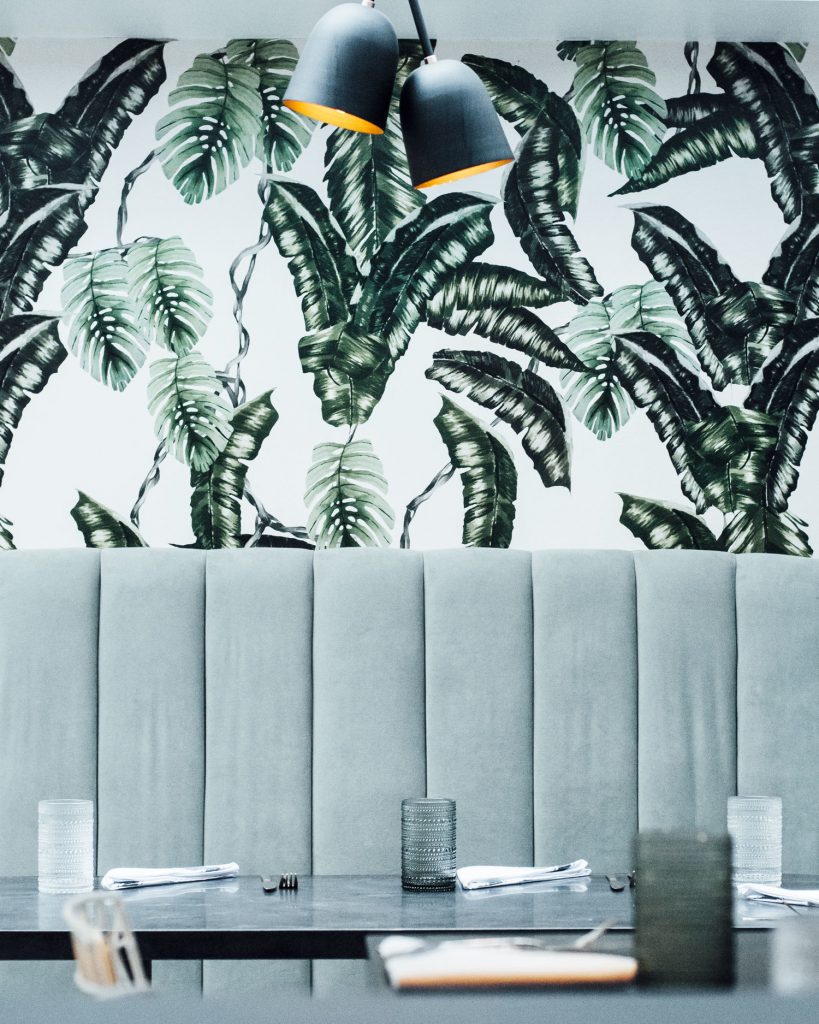 Sel Rrose in Montauk, New York will open this month. For the first time ever we created bespoke fabric for the banquettes. We did a custom plaid and the other a floral with hidden seashells to play off the beach vibe of Montauk. There are three main rooms – all stunning. In the floral room we also hand painted a mural on the 17' walls. The designers from D'Aquino Monaco layered the walls with white lattice. It's definitely a must see if you're planning a Montauk getaway this summer. 
What would be your dream project?
My dream project would be a boutique hotel. I would love to do the wallpaper, the rugs, the bed linens – pretty much oversee everything down to the prints on the martini glasses. A well thought out hotel with attention to the textile at that granular a level, will take on its own personality and elevate the experience completely.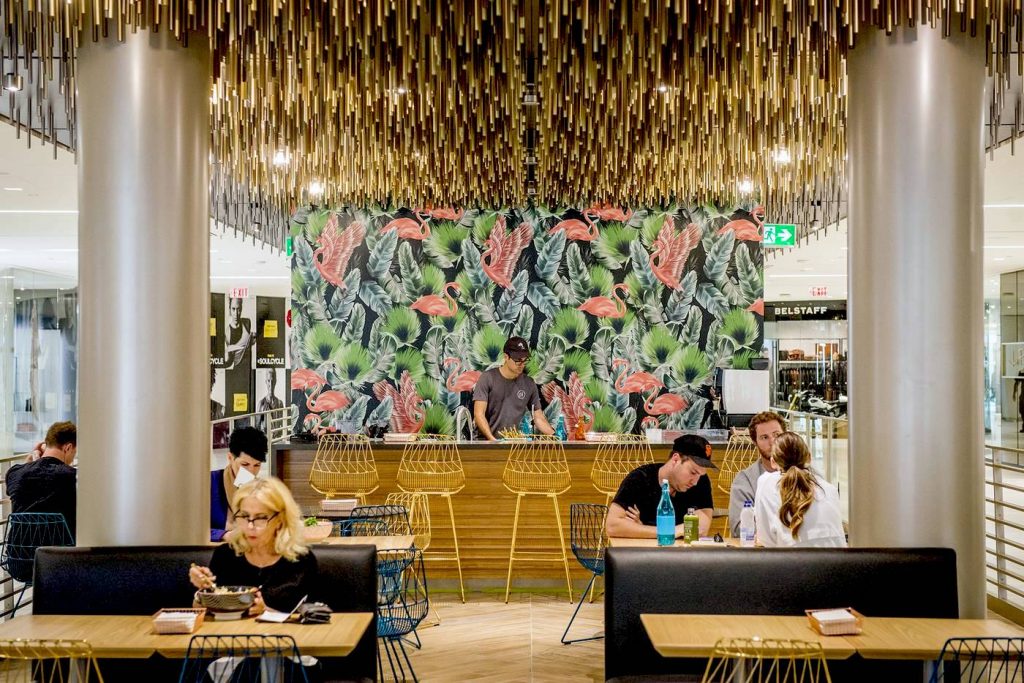 How did you start designing wallpaper?
To be honest it was not my first surface choice to design. I wanted to do embroidery and fabric. I was living in New York City interning at the time and waitressing on the weekends to make extra money. Paper was cheaper than fabric and I knew I wanted to start making collections and sampling them. It was just perfect timing that wallpaper was coming back. I saw the opportunity and jumped on it. 
Where do you go (physically or virtually) for inspiration?
I love to travel. Seeing the world is so important to my creative process. I always have my eyes open taking inspiration from everything. Anything can spark an idea. On the flip side, I also enjoy the feeling of being away from it all. While sitting in complete silence in the country I've gotten some of my best ideas. 
You've recently expanded to textiles – table linens, rugs etc.? Tell us about this.
Yes! Finally. I now offer printed table linens and embroidery that is done in our mill in India. As for rugs, my source is an old friend whom I trust with all of my heart. His work is just stunning. We work with mills in China, Nepal and India. I'm just starting to get into fabrics, there is so much to learn!! But I'm loving it and will be offering printed upholstery fabrics, sold by the yard, in my online store soon.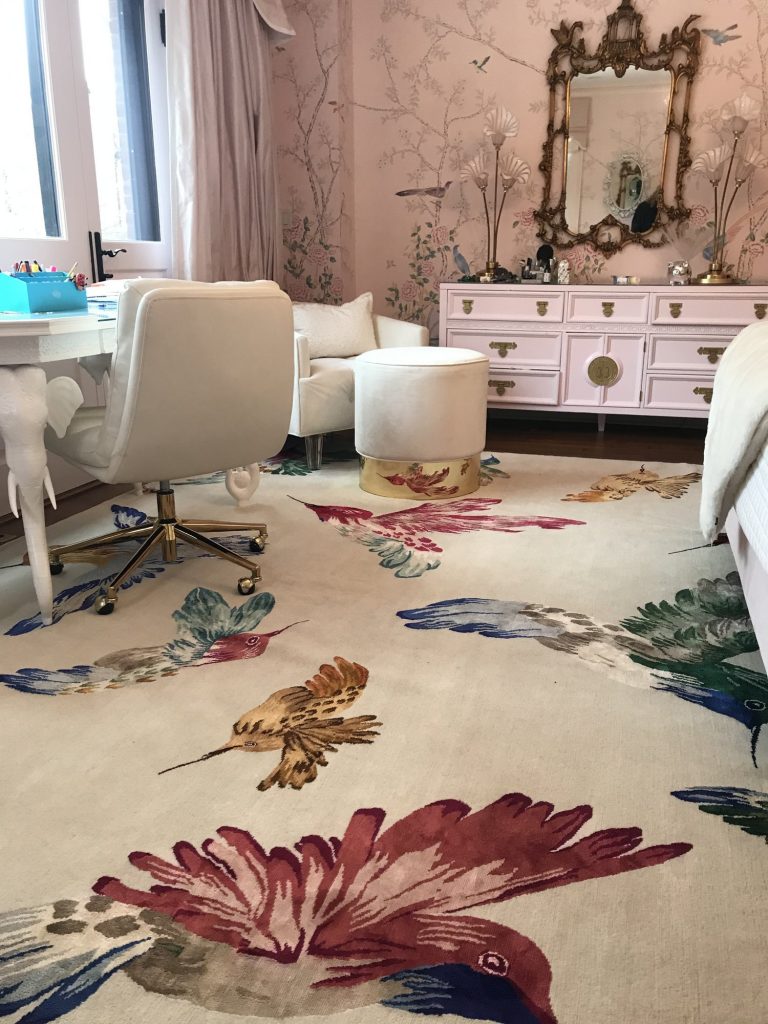 Do you have any future expansion plans you'd be willing to share with us?
At the moment I'm working really hard on a couple bespoke projects opening in the next few months in Miami. I will be focusing a lot on building the CKD brand – getting the fabrics perfected and the online shop looking the best it can. We have a new wallpaper collection launching next week! I also have a new product in the works that will be launching this summer. It is a piece of furniture that I have been wanting to do for years.