Living the simple life is a wonderful concept and one that we often all strive for.  We all know the basic rules of buying less and purging often but it's a lot easier said than done, for some of us at least. As designers, we often surround ourselves with the things we love; books, art, collectables and items with sentimental value…like bags and shoes (sorry-not-sorry). Ok, jokes aside…if you can live a simple and uncluttered life, kudos to you! But for the other 99.9% of us, clever, beautiful storage solutions are what we need.
Mida container units by Maxalto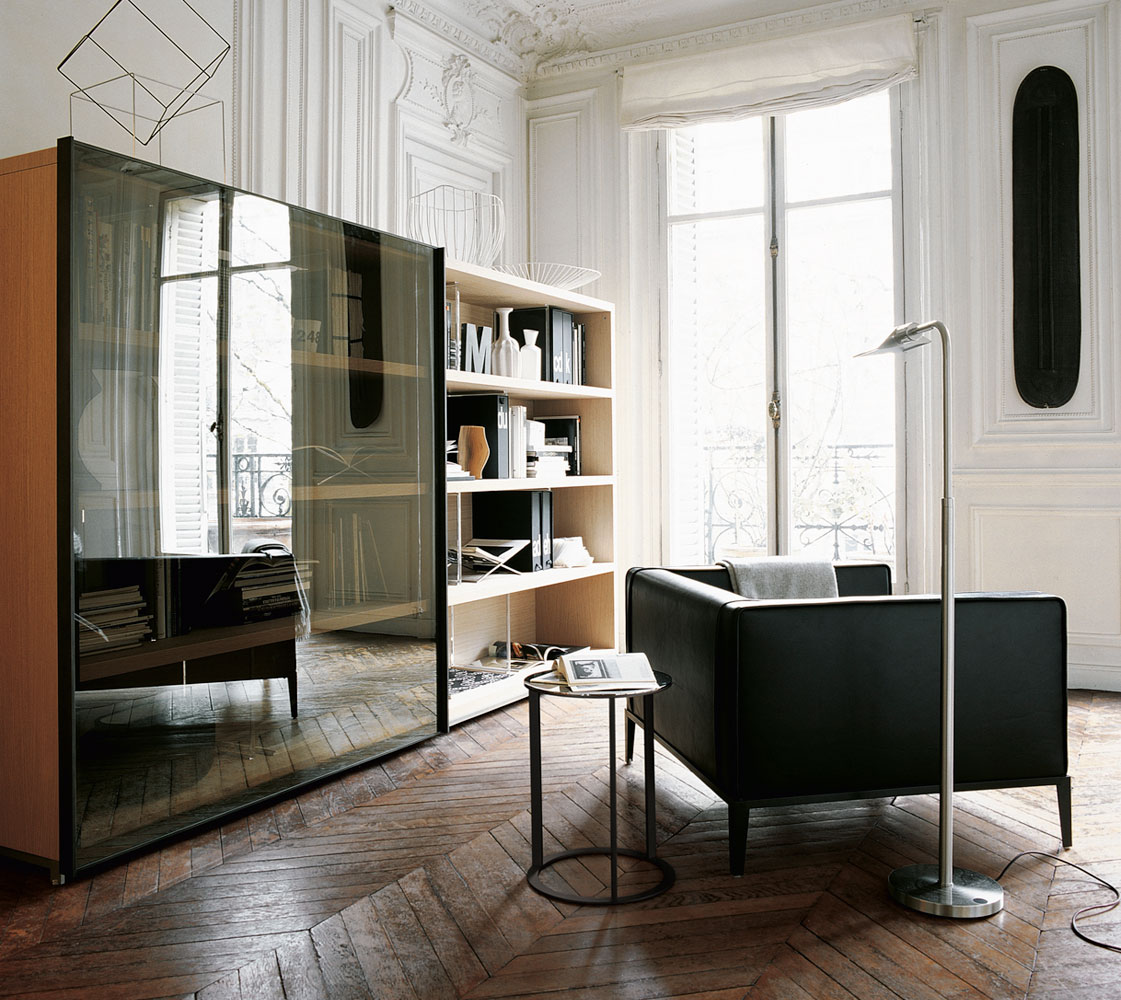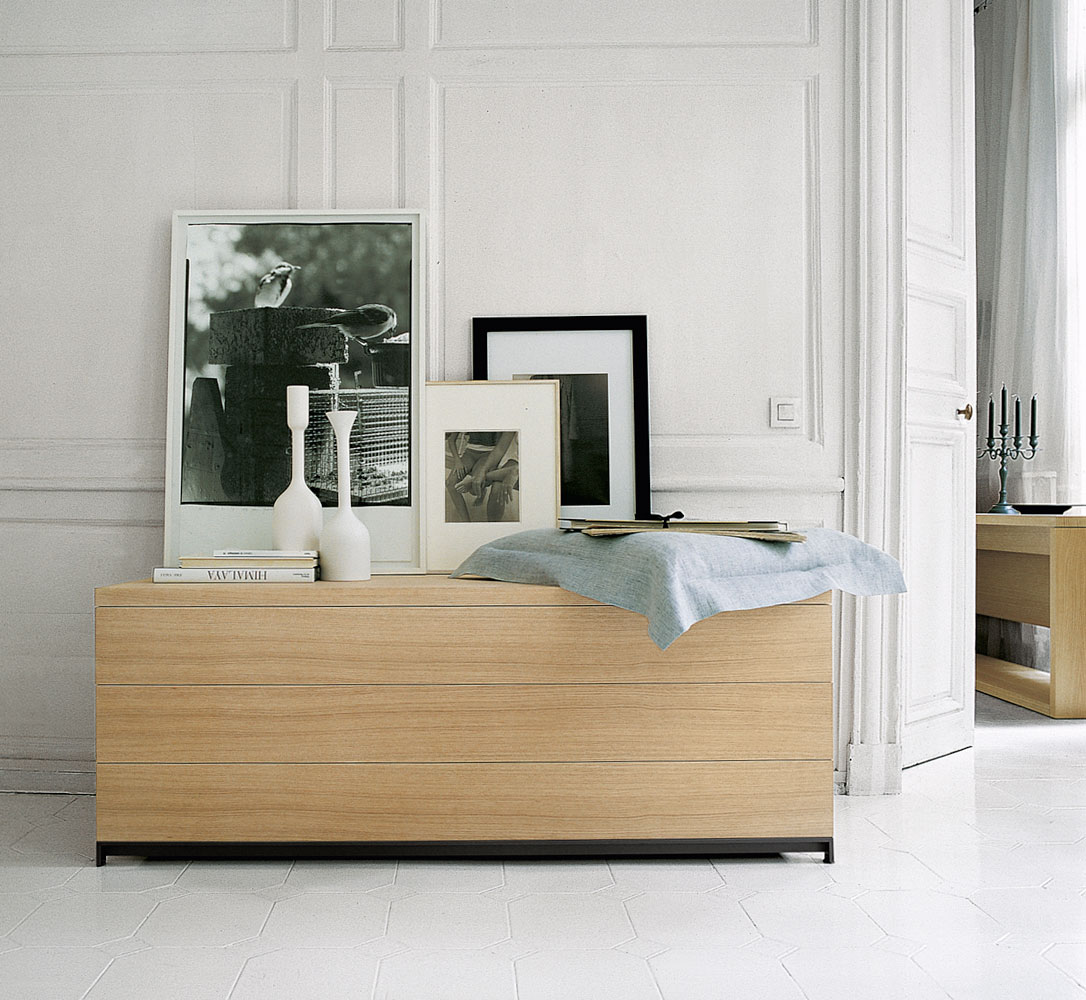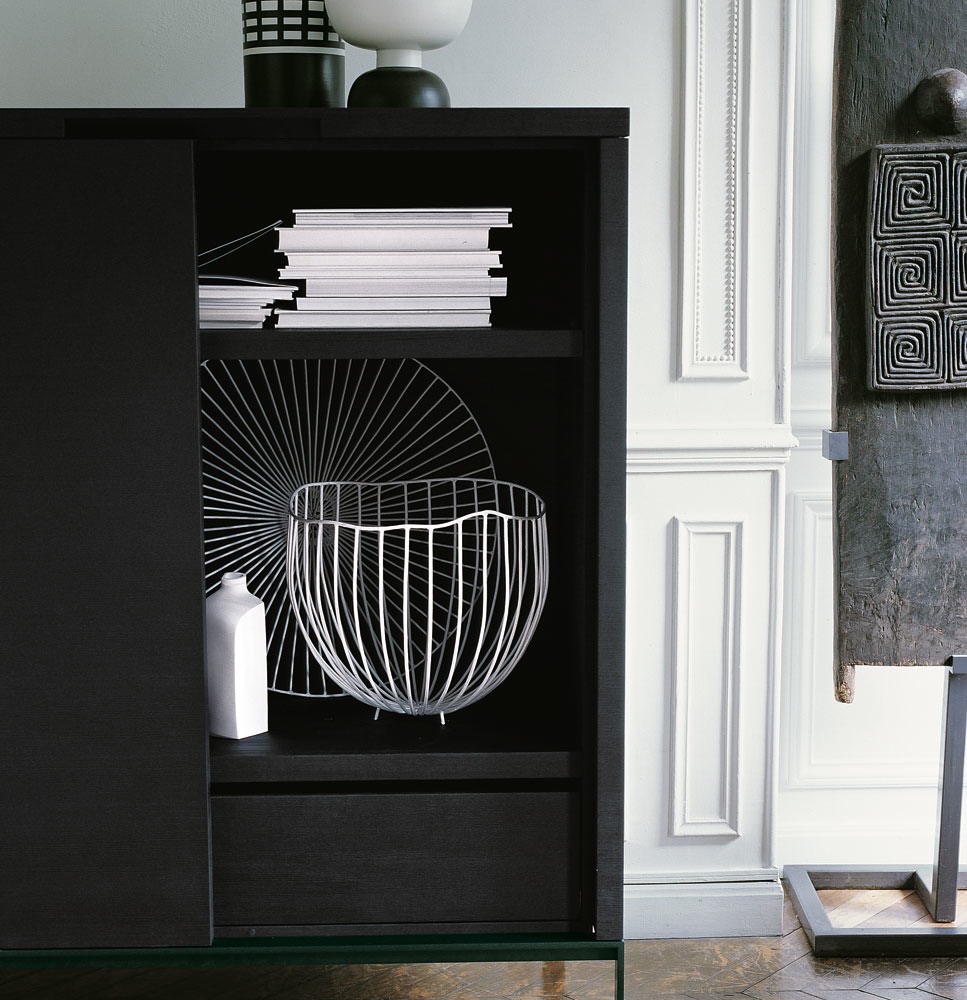 One of our favorite storage solutions is the Mida container units by Maxalto. Available in 13 different configurations and in a plethora of luxurious finishes (bronze, copper, painted black, sucupira, etc.) it is the quintessential living room storage unit. Its clever mix of open and closed compartments allows you to hide clutter items while proudly displaying your Skultana vase collection.
Decorative Brass Jar with Marble Lid
One of the simplest ways you can keep your home looking clear and uncluttered is by keeping items off your countertops…yes, it really is that simple!  Now if you want your home to look clean, uncluttered and smashingly gorgeous, then store those items in beautiful storage containers like this one by Bloomingsville! Its seamless marriage of copper and marble will sit pretty and proper on your kitchen or bathroom counter and even on your nightstand under a hardcover novel. Why the novel you ask? Well, it's really just for looks…and your significant other will think you're really smart!
Marrakesh boxes with leather pulls
With Spring officially here, it's time for us to finally bid farewell to winter…yay! This means it's also time for us to tuck away our winter woollies and other cold weather items like heavy sweaters and boots. Well, if you live in Vancouver like we do, keep those rain boots handy…sigh. As for your other items, we suggest tucking them into coated-card storage boxes like these classy Marrakesh boxes with leather pulls from Sagitine.
Coat Racks
If you are an apartment owner (or renter), you're probably far too familiar with the lack of available storage.  With closet spaces shrinking, you may be forced to double up your clothing storage with a portable garment rack. Today's modern garment racks like the Tra-ra by Tomoko Azumi can provide simplicity and elegance to any room because of its simple form and beautiful wood finishes. Its lightweight structure allows you to move it from one room or space to another. It's the perfect storage companion for your clothes, shoes and bags. Oh, because garment racks are usually left out in the open, we suggest you store only your finer items like your Marc Jacobs pumps or John Varvatos leather jacket…leave the crocs in the closet.  Ps. We also love the Valet cloth stand by CB2.
Modern Jewelry Case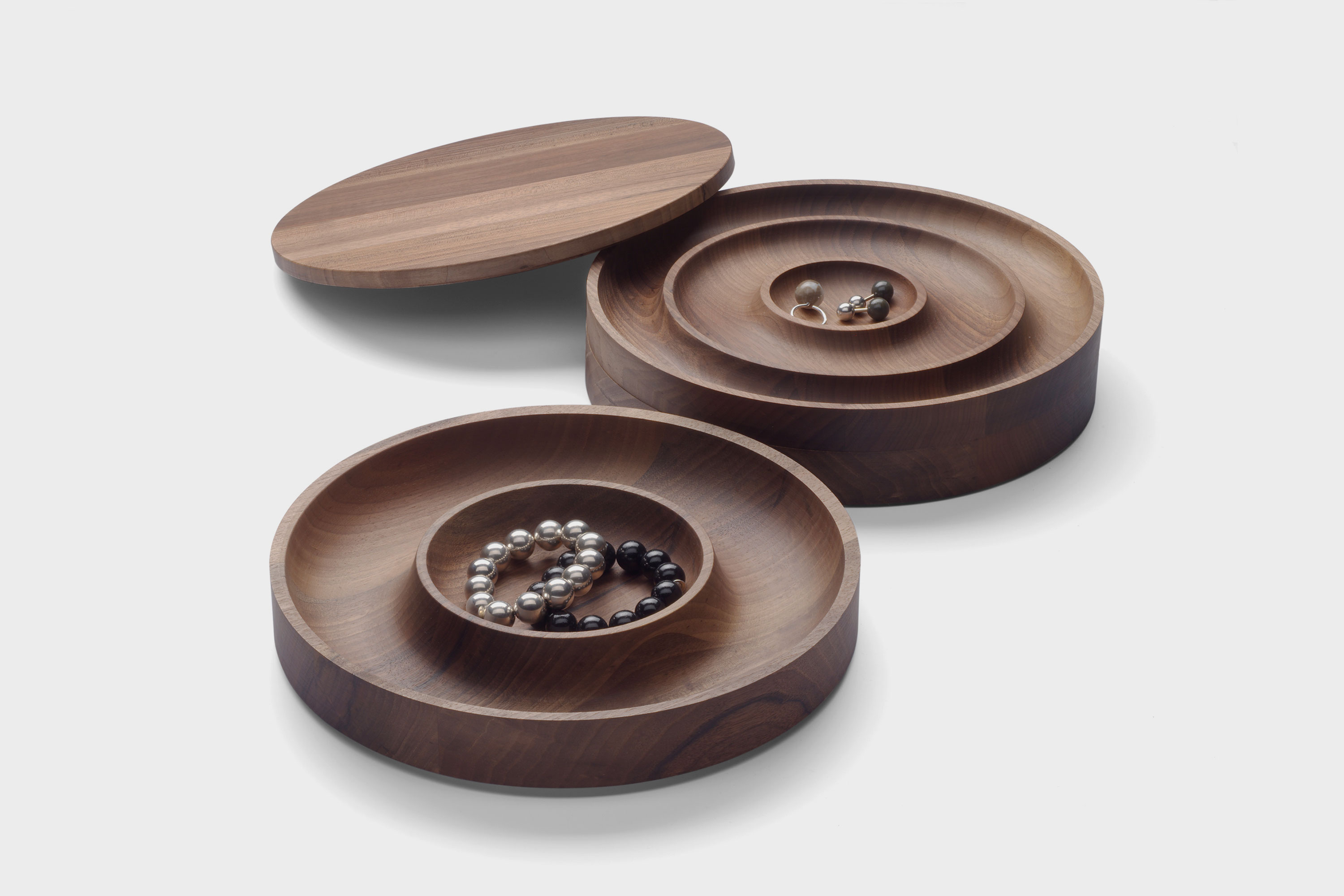 The AC02 Jewelry case by Saskia Diez is made of solid European walnut and is the perfect home for all your precious jewellery. Its three interior trays have been molded differently to accommodate your entire accessories range. If diamonds are a girl's best friend, then this walnut try is your diamonds (and pearls) best friend. Available through Livingspace.
Storage baskets
Storage baskets are the perfect solution to help cage your clutter. They are perfect for books, magazines, bathroom items and even toys. Trust us, stepping on Lego is not a pleasant experience! Find these storage baskets at CB2.
So there you have it! Some simple, clever and smashingly beautiful storage solutions!  We agree that its okay to surround yourself with the things you love. We just don't think everyone wants to see it…or step on it.
SaveSave
PREV. ITEM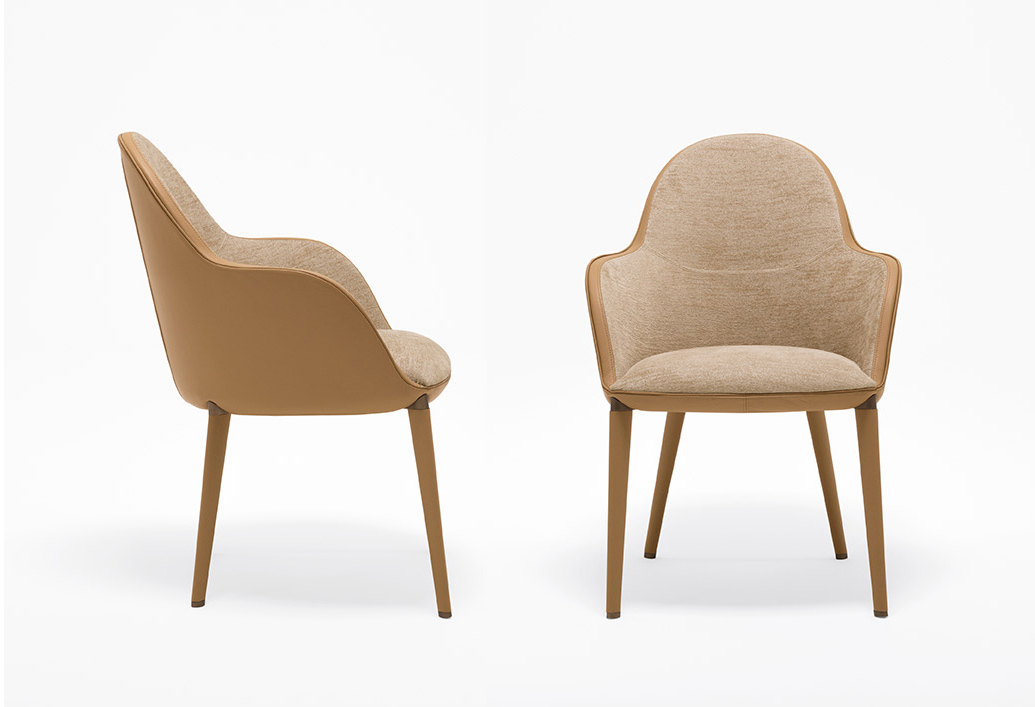 NEXT ITEM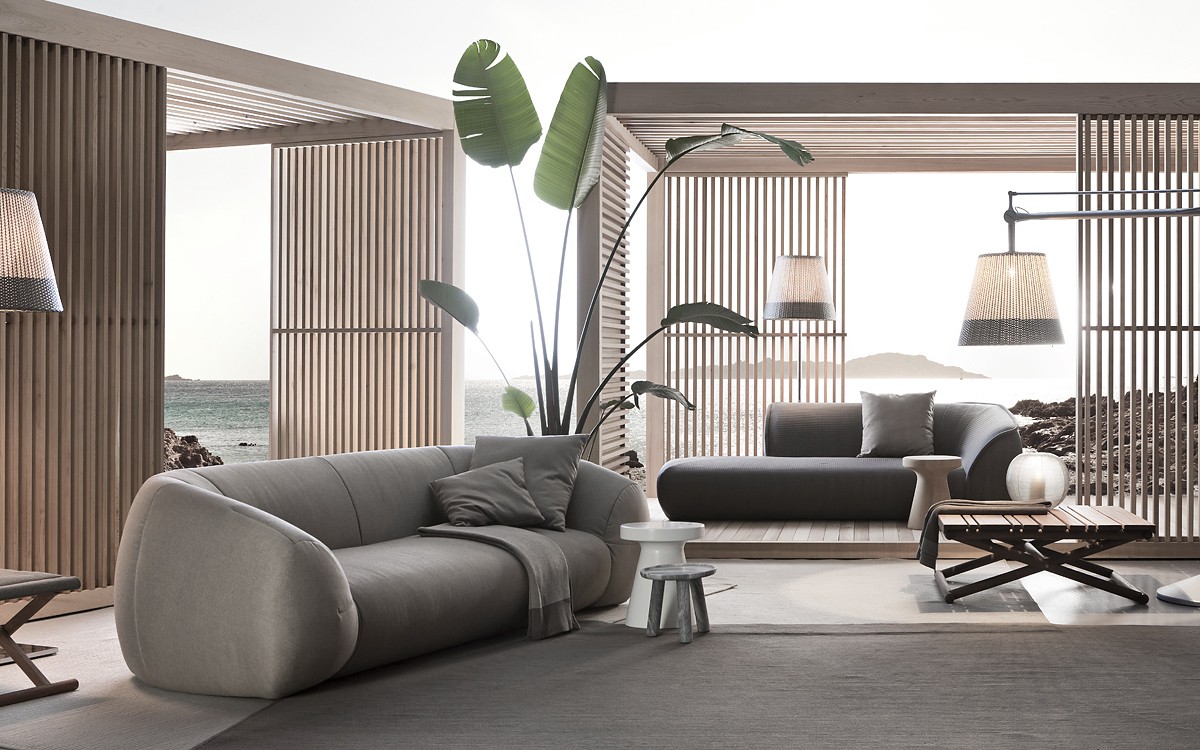 READ COMMENTS -
1 COMMENT